Even though infinity pools are already considered luxury pools, some people want to add comforts or amenities.
Swimming with a counter-current in an overflow pool
It is not possible for everyone to install a swim lane in their backyard so that they can line up laps. There is, fortunately, a counter-current system that is suitable for even small pools.
Can you tell me how this counter-current swimming system works? 
Rather intended for sportsmen, this equipment creates a current of water against which one swims. Although swimming on the spot, swimmers can feel the same sensation as they would after completing several lengths in an Olympic pool. A pump with a high flow sucks up and sends back the pool's water. There is no connection between its circuit and the filtration pump's circuit.
How do counter-current swimming devices differ from one another?
Two types of equipment are available. If you are building a zero-edge or negative-edge pool, or even a regular pool, you must install the most efficient ones. There are also models that can be installed directly on the edge of an already-built in-ground or semi-in-ground pool, or above-ground pools.
Integrated counter-current swimming devices

During the construction of a reinforced concrete pool with a mirror effect or waterfall overflow, a special housing part and a front panel providing suction and return jets and a push button are installed in one of the walls. Ideally, the dedicated pump should be installed in a plant room less than 5 meters from the suction. The counter-current swimming system is compatible with all concrete pool layers: liner, reinforced membrane, tiling or waterproof coating.
The elements in a shell pool must be integrated by the pool manufacturer.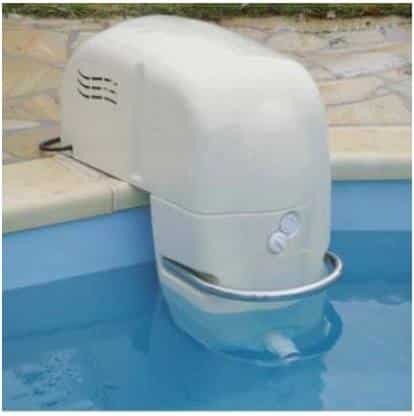 Outboard counter-current swimming devices
The pump and the jets are placed in a shell. Its installation is simple and requires almost no masonry work. The device lies on the edge of the pool or the coping, only partially submerged. A kit pool or a traditional masonry pool can benefit from this equipment. Although these devices are suited to overflowing pools, they can negatively affect the aesthetics of mirror pools; they cannot be used with polyester shell pools
In addition to being suitable for both freeform and rectangular pools, this decorative option can take many forms. A waterfall's type depends on the pool's surroundings and the desired atmosphere.
Swimming pool waterfall characteristics 
Regardless of the visual effect desired, waterfalls and pool fountains always operate on the same principle.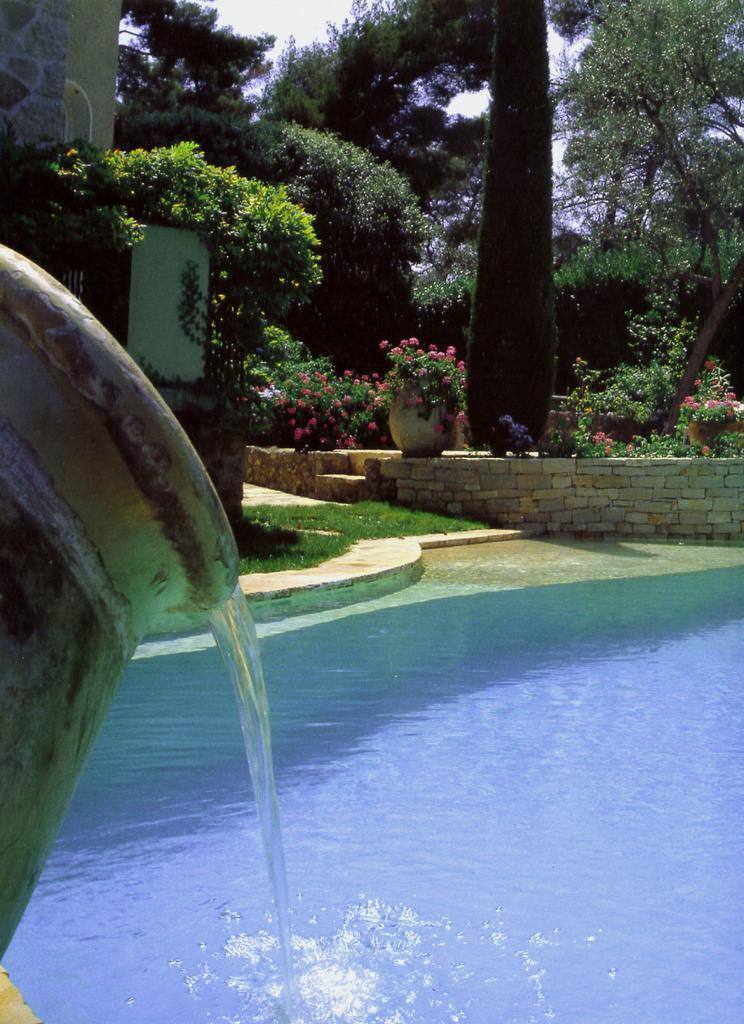 How does a waterfall affect an infinity pool?
A portion of the pool water collected in the channel will return to the main pool through the return inlets and a portion will return through the waterfall. In some cases, a dedicated pump can be used to operate an autonomous waterfall based on the size or sound effect required.
There are different types of waterfalls
Choosing a waterfall or fountain depends on the shape and style of the pool. In an in-ground geometric swimming pool, they are installed on the pool edge. Waterfalls placed on a wall overhanging an infinity pool will create the illusion that the water is spring-fed. A waterfall made of rocks is perfect for a freeform or natural pool.
Waterfalls: why are they so popular?
A waterfall creates additional animation around the swimming pools. In contrast to a rectangular pool, it breaks up the monotony of the lines. Water sounds create a relaxing atmosphere.
Be aware: Waterfalls or fountains need to be planned when designing an infinity pool or a deck level pool.
For my infinity pool, what type of cover should I choose? 
Submerged automatic covers
In-ground pools are the only pools where they can be installed. Construction of the housing can occur during the pool construction, and the installation of the cover can occur later to limit the cost. From the terraces, they are invisible.
The above ground roller shutter
The device is located outside the pool, as its name suggests. In addition to being widely used on private pools, it is compatible with renovations of swimming pools. A handyman can easily install it. It is possible to operate it manually or with a motor powered by solar collectors or an electricity source.
Overflow pool covers offer several benefits
There are several advantages to covering pools, such as
Maintains pool water temperature, which is very useful especially when using a heat pump
The pool is kept free of impurities and pollution, which facilitates its maintenance
An immersed cover preserves the aesthetics of the overflow pool. The same cannot be said for telescopic pool enclosures or above-ground covers.
Comparatively, this is a much cheaper option than movable pool floors.
Slats, especially polycarbonate ones, are more durable than isotherm pool blankets.
 An automated system for cleaning an overflow pool
There is now a way to clean a pool without using a pool vacuum or even an automatic cleaner. If you plan to build concrete pools, you should consider this option. Water is circulated (from the bottom to the top) in reverse hydraulics, just as in overflow pools.
The operating principle of the integrated cleaning system
This is an automatic cleaning system that cleans the bottom of the pool, the stairs, the bench, and the tanning shelf. From the filtration system, water is sent sequentially to the cleaning jets via a 6-way valve installed in the plant room. The nozzles sweep the pool floor with a powerful water jet, swinging around when they close to sweep the next section when they reopen. Six networks with two or more nozzles can be supplied by one valve.
Using an automated cleaning system has many advantages
A zero-edge pool or a negative edge pool has a channel below the pool where water flows to a catch basin. Water is returned to the in-ground pool through return inlets and cleaning nozzles after filtration.
There are several benefits to installing this system:
– Impurities deposited at the bottom of the pool are suspended and carried by the overflowing water to the catch basin.
– The quality of the water and its heating have been improved to the great delight of the swimmers.
– With no electrical components, it has a much longer lifespan than an automatic pool cleaner.
– The dead zones of the pool are finally eradicated by a powerful jet of water at ground level.
– The titanium and plastic valve is resistant to salt chlorination.
Please note: Also suitable for indoor pools, but not suitable for shell pools or wooden pools.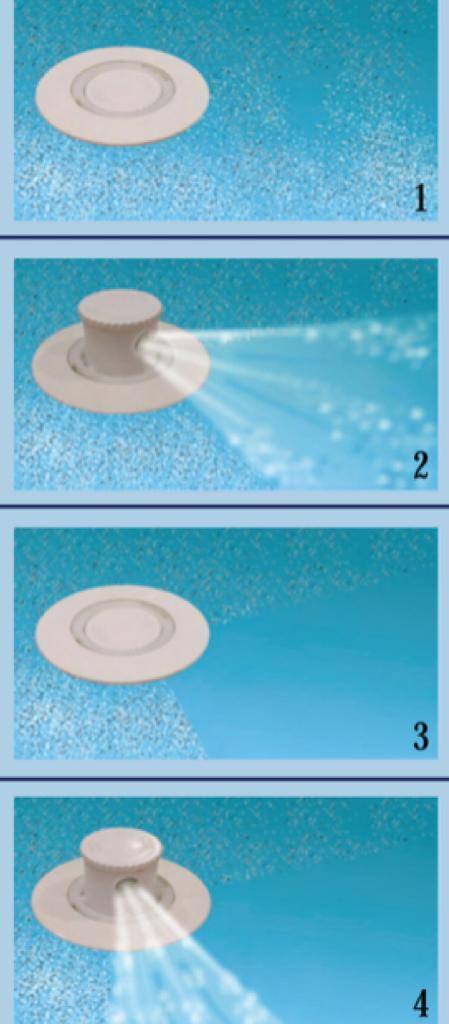 Get rid of bacteria, algae, and microorganisms
Maintaining healthy water for bathers requires more than just cleaning the pool. Swimming pool water must be treated with an antibacterial and anti-algae product such as chlorine. Alternative solutions may include bromine, salt electrolysis, PHMB, active oxygen, or ozone.
Keeping the pH around 7 is crucial if you want pool disinfectants to remain effective. This balance can be disturbed by carbon dioxide released into the water supply or rainwater.
Get a free estimate for your infinity pool from MORANA WATER DESIGN 
Building the pool of your dreams is on your to-do list. You are accompanied in this adventure by MORANA WATER DESIGN. By using this professional service, individuals can build or have built a vanishing pool without breaking the bank.
If you are considering a reinforced concrete or shotcrete swimming pool project, they will advise you on the best options. Detailed plans provide an alternative to kit pools for those who prefer to build their own.
Ask them for a free estimate to find out how to build your pool with peace of mind and save 15 to 50% compared to pool builders' quotes.