It is often due to a lack of knowledge about how to self-build a zero-edge pool or an infinity pool that the idea of making such an overflow pool remains in the box.
What is the process of building a vanishing edge pool?
There are two ways to get a turnkey pool: hire a pool builder or buy a kit pool or shell made from polyester, concrete, inox, etc.
When you don't want to deal with a pool manufacturer, you may also decide to build your own pool; this is an interesting option, and if necessary, you can consult with an expert. With this approach, you can completely define the project. Here are some of the benefits:
Why you should build your own infinity pool?
Self-building a reinforced concrete pool, whether it is in-ground or above-ground, has many advantages.
A virtually unlimited number of customization options
When you build your own pool, you can customize everything. Here are some ideas:
The shape can be free-form or rectangular, with or without a swim lane.
A negative edge overflow on sloping ground or a mirror effect with slot for a soothing atmosphere in a patio.
Jacuzzis (or saunas), beach entrances, copings, and kiddie pools add relaxing to a swimming pool.
Choosing the pool linings depends on the owner's budget, aesthetic tastes of the bathers, and masonry (shotcrete, poured concrete, or masonry). Reinforced membranes or liners are often proposed, but they can be replaced with polyester resins, mosaics, or waterproof coatings.
It is possible to choose the equipment for swimming comfort or pool maintenance based on the swimming habits of everyone.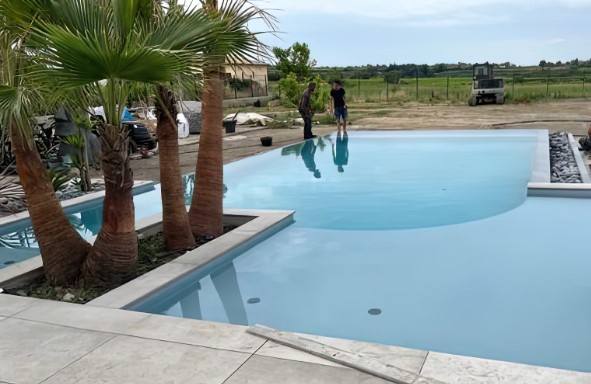 In short, you get a custom in-ground or semi-in-ground pool that combines durability, longevity, and aesthetics.
Save money by reducing labor costs
Builders can be expensive to hire. A private spillover pool requires about half of the total budget to be spent on labor; this includes masonry, pipe and fitting installation, filtration system installation in the pump room, and finishing touches (liners and coping). Some of these tasks may be handled by a handyman, depending on his skills.
In addition, it is possible to significantly reduce the cost of equipment such as a pool cover (automatic cover for example), a filtration pump or filter, a heat pump, and a water treatment system.
Find out how you can save up to 50% on your dream pool
Knowledge and experience gained from personal experience
By building your own pool, you gain a better understanding of how it works. Observing the balance tank, you discover why water spills, why it flows continuously, etc. It is clear to you why surge tanks have sensors. As a result, you can maintain the pool more easily.
Developing new skills and achieving the desired result always brings personal satisfaction.
Building your own vanishing edge pool has some disadvantages
Obviously, there are always disadvantages associated with any new venture. However, they are more because of apprehension or a lack of information.
Lack of skills and logistics
When constructing a concrete swimming pool or renovating one, one should remain humble. It is wise not to overestimate your skills but equally important, you should not underestimate them.
The logistics of getting deliveries to the site or anticipating purchases are examples of how good logistics save time.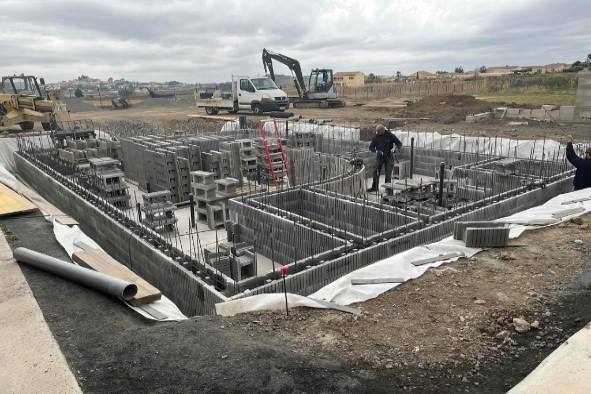 Time-consuming (requires a great deal of dedication)
In-ground or semi-inground pools cannot be built in 3 days. A polyester shell pool or concrete shell is a better option if you need one in a hurry.
To avoid becoming discouraged before the final phase of filling the pool with water, it is helpful to understand the different phases of construction for a spillover pool. By building the main pool in the fall and installing the bottom drain, inlets, waterproofing/lining, and equipment in the spring, you avoid overworking.
There is a high risk of making mistakes, getting hurt, etc.
Every time a person undertakes something, they run the risk of making mistakes. A professional pool builder also runs the risk of making mistakes, but he knows how to fix them.
Almost everything can be corrected. Incorrectly calculated wall levels, too high stair treads, etc., are for instance easy to correct. For the rest, there are procedures to limit missteps.
As beginners, we often pay closer attention to details.
Infinity pool experts offer their expertise to individuals or professionals
Is it possible to build your own vanishing edge pool?
Building your own in-ground pool is definitely possible. More and more people are trying this adventure with success and constructing their own regular, deck level or infinity pool.
There are not all people who can build a pool of their own
Self-constructing semi-in-ground or in-ground pools isn't within everyone's reach, but here are some tips to make it easier:
Earthwork is easier for flat-bottomed pools
Use blocks instead of metal or wood panels for wall formwork
When pouring the bottom of the basin, use poured concrete delivered by truck.
Finishing coats, waterproofing, and tiling can be accomplished by a good handyman, whereas reinforced PVC membranes cannot.
Use a prefabricated balance tank instead of one made of concrete if the pool has a small water volume.
If you are not a DIY enthusiast or do not have time to install an infinity pool yourself, it is best to hire a pool manufacturer.
The skills necessary to build a pool are within your reach
The earthwork can be done without all the skills, but those who know how to operate an excavator will be able to do it.
Reinforcement and pouring the slab requires masonry skills, as does raising the walls and building the gutter to catch overflowing water.
Installing the pipes for recirculation of water between the overflow pool and the filtration system is relatively easy for those who know how to glue PVC pipes.
With plumbing knowledge, anyone can install a filtration pump, an electrolyze for water treatment, or a solenoid valve for compensating low water levels in the balancing tank.
Conseil Morana offers you to design your spillover pool or zero-edge pool drawings
Putting a great deal of effort into the construction of a pool can be extremely frustrating if the water blades aren't perfectly straight or the water isn't as pure as you would like.
Conseil Morana designs all the necessary details and plans for a mirror effect pool whose water line is at the same level as the pool deck.
The hydraulic layout is customized to the volume and surface of the pool, resulting in a smooth water circulation.
Your new infinity pool will enhance the beauty of your exterior and make it more welcoming. This stunning custom-built pool will be a great place to relax and invite friends.
Interested in hiring an expert for your project? Please request a free quote.