Swimming pool design plays an important role in determining its appearance, functionality, and maintenance. However, even with the most careful intentions, mistakes can be made during the design process.Errors can result in additional expenses, disappointment, and long-term problems.
Therefore, it is essential to plan the pool design carefully and ensure it is done correctly> This will prevent future issues. To help with this, here are some of the most frequent mistakes to avoid in swimming pool design.
The main swimming pool design mistakes
Designing a pool isn't random. Every element plays an important role, whether it is from an aesthetic or a technical standpoint. Nevertheless, it is easy to make mistakes if you do not have any experience in swimming pool design. Some of the most common are listed below.
Pool use overlooked
The first mistake people make when designing a swimming pool is not considering its use. Is there anything specific you would like from your pool? For what purpose is it being used? Is it for exercise, relaxation, or family fun?
For sport swimming, pools must have a specific length and depth to ensure that athletes can practice safely and compete in accordance with the sport's rules. Relaxation and play pools may be smaller with different depths because these activities do not require the same depths and lengths as competitive swimming.
Before beginning the design of a swimming pool, it is important to determine its main purpose so as to avoid any mistakes
Lack of integration with the landscape
Integrating the pool into the surrounding landscape is another aspect often overlooked. A poorly integrated pool will stand out in your garden and detract from the overall aesthetics of your property.
Consider the curves and angles of your pool, the aesthetic of your garden, and how it complements the entire landscape. With proper design, your swimming pool will become an attractive and functional addition to your outdoor living space.
Not thinking about maintenance
Swimming pool maintenance is another important consideration in the design process, and neglecting this aspect is one of the most common mistakes. It is not uncommon for people to fail to provide easy access for cleaning or to underestimate the importance of a properly designed pool filtration system.
It is important to keep in mind that pool maintenance will be a regular part of pool use. Be sure that your design facilitates rather than complicates maintenance.
Ignoring the safety issue
Safety is a crucial element of pool design, especially if you have children or pets.
One of the most common mistakes you can make is not matching the pool design to the chosen safety system. To ensure a safe pool environment, it is important to evaluate the different safety systems available and select the one that best fits the pool design.
Budget underestimation
Underestimating the budget is a common mistake when designing a swimming pool. Many people only consider the initial construction cost, and forget about long-term maintenance expenses.
It's essential to adjust your pool project to your budget. Remember that the deeper the pool, the more it costs to maintain.
Not hiring a skilled pool designer
The last mistake is not to call in a professional to design a pool.This can avoid costly mistakes with a professional. With the help of a skilled pool plan designer, you can optimize your space and ensure that your pool is designed to meet all your needs.
Avoid mistakes in your pool design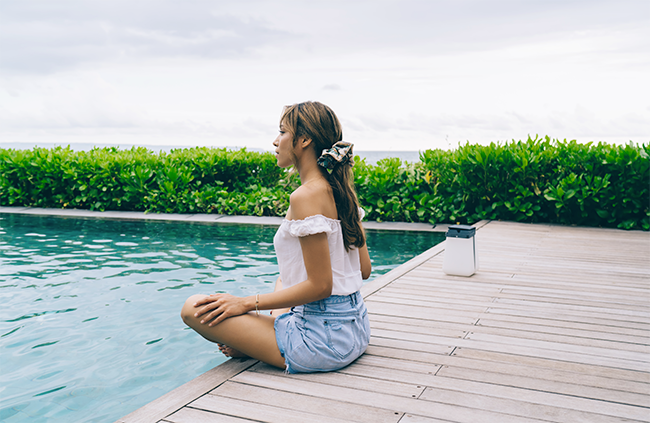 Mistakes in pool design: what's the impact?
The importance of properly planning your pool design cannot be underestimated. Therefore, it is essential to plan your pool design carefully to prevent any costly mistakes.
Poor pool planning, for example, can result in an aquatic space that is inadequately adapted to your needs and that remains unused.The improper integration of a pool into the landscape can negatively affect the aesthetics of your property and result in lower property values.
Poorly designed filtration systems or difficult maintenance access can prematurely deteriorate pools and increase maintenance expenses in the long run. Neglecting safety measures can have tragic consequences, including accidents and drowning.
Lastly, underestimating the budget may result in unfinished work, inferior materials, or a pool that requires frequent maintenance.
Thus, calling in a professional to design your pool is a wise investment that will help you avoid these mistakes in the future.
Catherine's advice
≠ 1 : Plan the pool so everyone can enjoy it
A swimming pool should be designed to be enjoyed by all family members, from children to adults. Think about features that suit everyone. If you have a large pool and a shallow area for those who do not want to go too deep, your children will be able to enjoy hours of fun. Your pool should be designed in a way that makes it enjoyable for everybody, making it the perfect place for your family to gather and enjoy together.
≠ 2 : Set a realistic budget
Ensure that the budget considers any additional costs that may arise during the project. By considering several stages in the construction process, you can spread out the pool cost over time and create the perfect pool for your requirements. . Many options may be incorporated into the design and installed at a later date. Do not over-size equipment to avoid unnecessary expenditure. Overall, planning and budgeting are essential components of a successful project.
≠ 3 : Consider soil conditions
Ignoring soil conditions can result in costly problems in the future, as the pool may crack or shift due to the soil not being able to support the weight of the pool or the water in it. A pool needs to be built on a solid foundation, and the soil needs to be considered for stability and durability. Soil quality is an important factor in the construction of a pool and should not be ignored when designing a pool.
Considérez l'entretien à long terme
When designing a swimming pool, it is important to choose a shape that appeals to the eye, while keeping in mind the difficulty of maintaining it in the long run. Picking the right materials for construction as well as selecting the correct type of filtration system are also critical considerations. In this way, a swimming pool can be a practical and attractive addition to any backyard or garden.
≠ 5 : Avoid mistakes when designing your pool by consulting a professional
By hiring a professional pool plan designer, you can avoid many common pitfalls. Through the entire design and construction process, he or she will provide expertise and guidance. A skilled pool designer will also be able to offer you advice on how to make your pool as energy-efficient and cost-effective as possible. In addition, they can provide you with information on the latest trends and materials available, allowing you to design an exclusive and stylish pool.

Conclusion
There is no doubt that designing a swimming pool is an intricate process, which requires a lot of careful planning and consideration. If you avoid these common mistakes, you will be able to create a pool that will cater to your individual needs, but that will also be beautiful, safe, and easy to maintain. By working with a professional, such as Morana Water Design, you can be sure that your pool will be designed properly from the very beginning, avoiding any costly mistakes along the way.