A safe pool should be one of the first considerations when designing a pool, but this is not always the case. It is therefore essential to make safety a priority when designing a swimming pool.
Read through the various safety aspects involved in pool design to gain a better understanding of them. 
Keeping a pool safe: regulations and standards
Before designing your pool, it is important to be familiar with your local pool safety standards and regulations. Regulations may specify the types of fencing required, the maximum and minimum depths, and even the types of alarms required. By familiarizing yourself with these standards, you can ensure that your pool is safe and enjoyable for all.
Swimming pool accidents statistics overview
A swimming pool provides a place for relaxation and pleasure. However, it is not without its associated risks. Every year, tragic accidents occur in private pools, highlighting the importance of safety. Here, we will discuss pool accident statistics and preventative measures to ensure everyone stays safe around the pool.
Droning deaths
The numbers : On average, 3,536 unintentional drowning deaths occur in the United States every year, according to the Centers for Disease Control and Prevention (CDC). A reported 236 000 people are estimated to drown each year. Drowning is the third leading cause of unintentional deaths worldwide.
Residential or commercial pools : In western countries, most of the swimming pool accidents occur in residential pools.
Injuries
Lets talk numbers : For every child who dies from drowning, five more receive emergency care for nonfatal submersion injuries. This tragic statistic highlights the importance of providing education and resources to prevent drowning.
Kind of injuries : Long-term health issues can result from these injuries, such as brain damage, paralysis, and loss of vision.
Pool accidents prevention
Prevention remains the most effective means of reducing the number of swimming pool accidents. Here are a few steps you can take:
Fences and barriers around the pool: they prohibit the access to the pool
Alarms : if a fall into the water or a breach of the pool perimeter occurs, you should be immediately informed by the alarm.
Supervision : make sure to have at least one other adult present when children are in the pool.
Swimming lessons: teaching children to swim at a young age is a great way to ensure that everyone is safe in the pool water.
Know what to do in a water emergency : This includes the skills of helping someone in trouble in the water, contacting emergency services and providing CPR.
Safety considerations in pool design: the use of fences, alarms, covers and enclosures
Pool design extends beyond aesthetics and functionality, as it also owes users the highest level of safety. In this section, we'll explore these devices in detail to give you a clear idea of what they involve. Without these elements, your pool would not be safe, and users could suffer serious injuries or even death.
Fences
A fence is a physical barrier installed around the pool. It is often made of metal, wood, PVC, or glass. For instance, a wood fence offers an attractive and natural look, while a glass fence provides an open view while still providing a barrier.
They are extremely effective in preventing children and pets from accessing the pool.
The cost can vary considerably depending on the material used and the size of the pool. However, expect to spend a few thousand euros on a quality, long-lasting installation.
Alarms
Pool alarms can be either immersed or perimeter alarms. An immersed pool alarm is a device that is placed inside the pool and used to detect any motion in the water. A perimeter alarm, on the other hand, is a safety device that is located outside the pool and used to detect any motion in the surrounding area.
The cost of pool alarms varies from a few dozen to a few hundred euros, depending on their sophistication.
A conventional alarm can be installed on a barrier to provide an extra layer of security.
Pool security covers
Safety covers and slatted covers extend over the pool surface. They often operate motorized.
These devices prevent children from accidentally falling into the pool when it is not used. Additionally, the covers prevent dust accumulation in the pool and reduce water evaporation, ensuring pool water is balanced.
There are generally higher prices associated with motorized safety covers. These prices range from a few hundred to a few thousand euros, depending on the size of the pool and the type of cover. There is also the option of movable floors. To purchase one, you will need to spend several tens of thousands of euros.
Enclosures
A pool enclosure is the fourth category of pool safety system. They cover the entire pool, including the coping. Enclosures act as a barrier to prevent children from gaining access to the pool. They can also help reduce the number of debris that falls into the pool.
They are differentiated by height: low, semi-high and high. Only the latter allow you to stand upright, since their height is around 1.80 m.
The materials used and the height all contribute to the price, with higher quality wood and larger heights being more expensive. In France, a pool enclosure over 1.80 m high requires either a prior declaration or a building permit, depending on the case.
With us, you can build a safe pool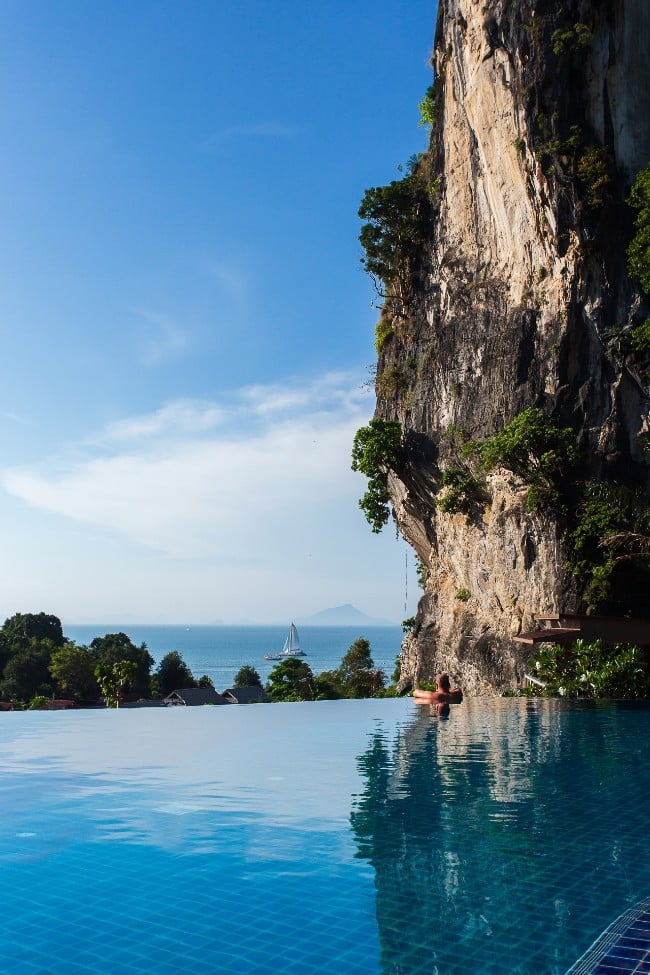 Human supervision is key for a safe pool
Despite pool safety devices, adults should remain vigilant to prevent accidents from occurring. This is especially true if young children are in or near the pool.In addition, at least one household member should be trained in first aid. This will ensure that they are equipped to respond quickly and effectively in the event of an emergency.
Extra keys to make your pool super safe
Consider other potential hazards when designing, such as slippery surfaces around the pool or prolonged sun exposure. As such, it is important to plan for adequate protections such as non-slip flooring and shaded areas. Additionally, ensure that the depth of your pool is appropriate for the types of activities planned, such as providing shallow water for playing and deeper water for swimming or diving.
Catherine's advice
≠ 1 : Ensure your pool is designed with safety in mind
Some pool safety devices must be installed during pool construction. Furthermore, the design of the pool and its piping network as well as the choice of the pool lining must be carefully considered to prevent pool accidents. Moreover, regular inspections and maintenance must be conducted to ensure pool safety and security.
≠ 2 : Get advice from pros
Make sure that your pool complies with all safety standards by calling in the professionals. Furthermore, to ensure your pool meets all safety requirements, you should hire a professional designer. It is particularly important when working with an infinity pool where vanishing edges must be carefully designed.
≠ 3 : Don't overlook the details
A small detail, such as the right lighting or vegetation, can have a substantial impact on safety. A properly lit pool, as well as the area surrounding it, is essential. At the time of pool commissioning, it must be operational. Further, it should be regularly checked to ensure that it is functioning properly. As well as that, plants around the pool should be spaced and pruned properly to facilitate visibility and prevent accidental falls.
≠ 4 : Don't rely on pool safety device
Pool safety should never be based entirely on an installed device. The adult's watchful eye is key to ensuring that all pool-goers are safe. To further emphasize the importance of vigilant adult supervision, it is paramount that pool-goers are educated on water safety and basic swimming skills. Therefore, aquatic fluency reduces the risk of drowning and helps children feel more confident in the water.
≠ 5 : Regularly check your pool safety devices
Regular inspections of your pool safety devices should be conducted regularly to ensure they are functioning properly. It is important to carefully examine each item, whether it is the connections, batteries or the general condition.

Conclusion
Poor pool design can lead to accidents and dangerous conditions, so pool owners must prioritize safety when designing their pools.
Ultimately, taking the time to design a pool that is both aesthetically pleasing and functional is essential for ensuring a safe and enjoyable swimming experience.