An infinity pool plan can be a hand drawn sketch, a schematic drawing, or a complete set of construction blueprints. They are all different, and they can't be realized the same way.
Why should you have a pool drawing?
A plan is only required for masonry pools made from solid concrete, cemented blocks, or shuttering blocks; for polyester shells and kit pools, the manufacturer's assembly manuel is sufficient.
Pool construction administrative procedures
Only France and overseas departments are subject to these procedures.
To build an in-ground or semi-in-ground pool larger than 10 m2, the owner must submit a ground plan and a section of the construction project.
It is necessary to position the general pool plan on the title plan map to judge the distance from neighbors or streets.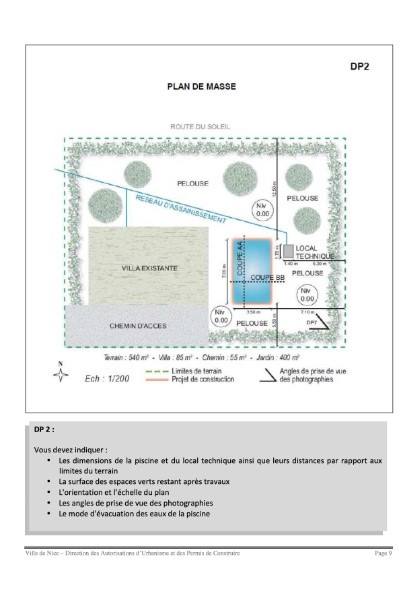 A section of the pool is intended to show how the bottom of the pool fits into sloping ground. It also shows how much earthwork needs to be done to install an inground pool.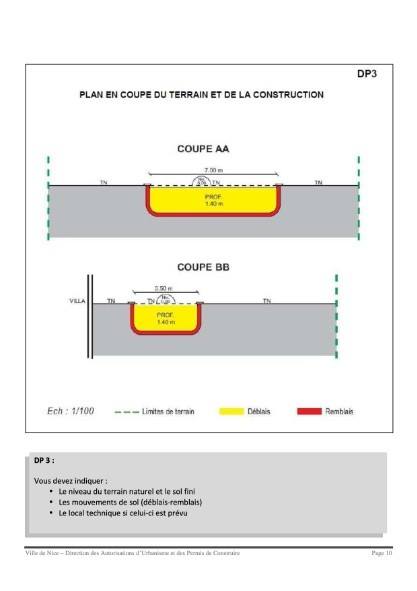 Note: Most private pools only require a prior declaration of works. Town halls may request other drawings, especially when a building permit is required, or the installation site is in a protected area.
Learn more about the regulations.
Help with the construction of overspill pools
For shotcrete or poured concrete pools, you can have them built or construct them yourself. Drawings are extremely helpful for those who wish to construct their own.
On an infinity or zero edge pool plan, what should be included?
There are several different types of pool plans, depending on what they are used for.
For a declaration of work and a free estimate, you need a sketch showing the dimensions of the pool, where the plant room is located, and what facilities are near it.
For those who do not want to hire a pool builder, additional information is required: for instance, how large the overflow channel is, how large the surge tank is, where jets, inlets, and drains are positioned, how the vanishing edges profile for a deck-level pool is, etc.
How to make a plan for an infinity pool?
To make a swimming pool with its surroundings, one plan is not enough; you often need several. A 3-D pool design is very aesthetic, but it is of no use for building a swimming pool, whether it's rectangular or free form.
The general plan, the section and the details
A general plan is a two-dimensional drawing showing both the interior fittings of the pool as well as its surrounding features, such as the beach, pool house, technical room, terraces, etc. Each detail must be clearly indicated on the blueprint since it is used to mark the custom pool.
The section shows the pool profile, including the bottom slab shape, the water level, stairs, and an optional submerged deck.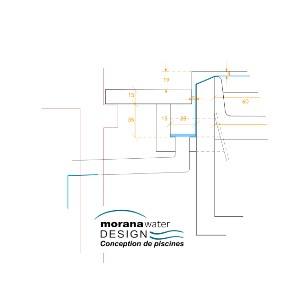 It is often necessary to detail certain design elements in vanishing edge pools, such as a jacuzzi bench, overflow profile, and so on.
This plan and section are suitable for the construction of any type of pool, e.g. negative edge or deck level.
Note: The reinforcement and foundations of the pool are calculated by a concrete engineer, after a soil study. Depending on the formwork selected, this ensures durability and solidity of the pool.
The hydraulic plan
The following must be found there:
The position of the inlets and bottom drain in the pool.
The piping system between the pool and plant room. A well-sized circuit ensures efficient recirculation of water, and eases the maintenance of the overspill pool, whether it is a negative or zero edge pool.
The layout of the plant room, i.e., installation of the pool filtration system (pump and filter), pipes, valves, bypass for later installation of a heat pump or salt chlorinator.
Implementation instructions
A plan alone is not always sufficient. The use of instructions for implementation is beneficial for the following reasons:
Avoiding breaking a pipe when pouring the bottom slab and thus preventing leaks
In case of masonry pools or reinforced concrete pools, what lining should you choose? Mosaic, reinforced PVC membrane, liner, waterproofing coating?
Ensure that the flow rate of the filtration pump and the size of the filter are appropriate.
Why is it difficult to make a plan for an infinity pool?
Several drawing tools are available online or for download. In addition to being easy to use, they are ideal for the construction of rectangular pools with relatively simple hydraulic circuits. However, they cannot be used for free-form pools indoors or outdoors.
Infinity or deck level pools are in essence custom built pools, which require the ability to utilize a drawing software program and have experience in construction of no-edge indoor or outdoor pools.
Note: Many simulators are simply a way for online material sites to sell all the materials, such as polystyrene blocks that replace concrete blocks.
What are the advantages of having an overflow pool plan?
It is essential to have a comprehensive plan when building or renovating a pool to make sure everything runs smoothly. There are a number of solutions available for building a durable infinity pool that can be chosen according to your investment preferences.
By taking on some of the work or purchases, you can reduce the price of a pool or install more features, such as:
● Instead of a simple cover, use a submerged cover or movable floor.
● Creating a lap pool out of a small pool with a counter-current swim.
● The addition of a balneotherapy area or raised spa spilling over into the pool create an eye-catching visual effect or add a relaxing element.
Who should I trust with drawings of an infinity pool or a zero-edge pool?
Conseil Morana will guide you in the design and construction of the pool of your dreams. The plans and advice they provide make the realization of any project, including pool renovations, possible, regardless of whether the pool is rectangular semi-buried with a negative edge weir or free form reinforced concrete pool.
There have been hundreds of individuals and professionals who have made the vanishing pool a reality over the past few years. Why shouldn't you be one of them?
If you have a project in mind, feel free to contact them and ask for an estimate.