There are over 10 million residential pools in the United States. Between 2022 and 2027, the US swimming pool construction market is projected to grow at a CAGR of 3.30%. An inground concrete pool has a long life. There will likely be a need for a brand-new pool liner after 10 or 15 years, though these are usually minor repairs; infinity pool remodeling is totally different.
How to refurbish a pool and why you should do it
A project's ultimate goal is always an aesthetic or technical improvement. Changes can be as simple as changing a vinyl liner to a complete transformation of a skimmer pool by including an overflow.
Work to repair the pool
Damage to the pool liner
The waterproofing of many regular pools is provided by a liner or a jointed PVC membrane. After 10 years (or sooner depending on the use and the adjustment of the pool chlorinator), this needs to be replaced. In this case, you might be able to use a reinforced PVC liner or a special plaster. This field has made substantial advances.
It might be necessary to apply a freshly applied layer of gel-coat to a fiberglass pool.
Problems with the structure
These usually affect concrete (reinforced concrete, shotcrete, cast concrete) pools after a few years. Water leaks occur due to cracks. Hence, it is imperative to seal the cracks. Liners often overlook these problems. Ensure you are not wasting water!
The ground can shift, and one or more buried pipes can break; corrosion can also cause damage. The hydraulic network and the jets must then be tested, and the source of the leak must be identified. Precautions can be taken to avoid these issues when building a pool.
Additionally, the filter system may need to be replaced after ten years. It's a simple process. Other filter media can be used instead of sand. The efficiency of a brand-new pool pump may be higher.
If you are considering building an overflow swimming-pool, take advantage of our experience.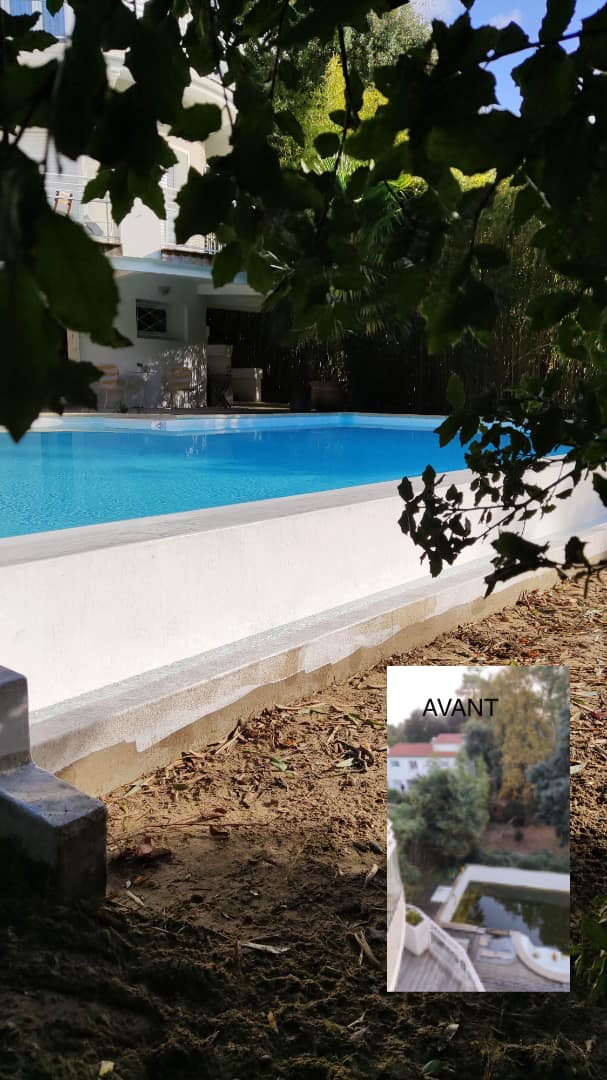 Remodeling a pool to improve it
The works involved in refurbishing a ground swimming pool are usually more extensive. Some of these are listed here, but this list is not exhaustive.
Designing the pool's surroundings
The materials of today allow layouts that were unimaginable just a decade or two ago. An updated coping that is more discreet or more in harmony with the surrounding decking changes the entire look of a pool and creates a backyard oasis.
Changing the pool access
Pool ladders were the standard entryway to most pools until a few years ago. Often not practical for young children or the elderly, stairs or a gently sloping submerged pool deck as beach entrance are alternatives.
Changing the depth of in-ground pools
Traditionally, infinity pools or regular pools were built very deep. Reduced pool depths save water, pool chemicals, and heating costs.
Creating an infinity pool from a traditional pool
Pool renovations are more significant in this case, but they are still quite feasible. This frequently involves the steps outlined above, as well as the modification of the filtration system and the addition of an overflow.
Certain pool kits are also capable of undergoing this renovation, contrary to commonly held beliefs.
An infinity pool renovation checklist: 5 key points
Infinity pools became popular in the middle of the 20th century. Like ordinary pools, overflow pools require refurbishment every 10 to 15 years. It may be necessary to upgrade the filter system or the pool pumps even if there are no major problems.
Determining what is needed to renovate your in-ground pool
Consider hiring a pool contractor or a pool design specialist. The assessment will identify priorities and provide personalized advice.
Is it a good time to refurbish an infinity pool?
Water must always be present in a concrete swimming pool, barring exceptions. To accomplish desired or necessary work, for instance: adding an immersed pool deck or an endless pool system, raising the deep end of the pool to install inlet jets, etc., it is wise to take advantage of a change in coating.
An overflow pool renovation should be handled by a professional.
You're better off leaving an expert design your new pool if you're converting a skimmer pool into an overflow pool or renovating an overflow pool. Unless you have their expertise, you cannot determine the feasibility of your pool renovation project.
How much should you budget for a renovation of an infinity pool?
People often ask this question, but answering it is difficult. Pool builders claim that building a pool is cheaper. In some cases, it is not possible to install a new pool, so the only option is to renovate the existing one. In a pool renovation, the work can be done according to the budget as you go.
Enhance the size or shape of your pool by renovating it
It is possible to increase the size of a small pool in some cases; it does not mean it will become an Olympic pool. Similarly, modifying a rectangular pool to become freeform will be difficult. Even if your pool is semi inground or indoor, there are lots of options.
How Morana Water Design can help you remodel your pool
With over 30 years of experience, Morana Water Design has worked with many individuals and professionals on this process of custom pool renovation. Their personalized advice will take the size of the project and the value of the site into account.