How to build a swimming pool economically
The overflow pool has long been synonymous with luxury and dreams; more than 25 years ago, when we built our first infinity pool, this type of pool was reserved for a wealthy clientele or 5-star hotels. Today this is no longer true. The market is opening up and different possibilities exist. But by the way, what is an infinity pool!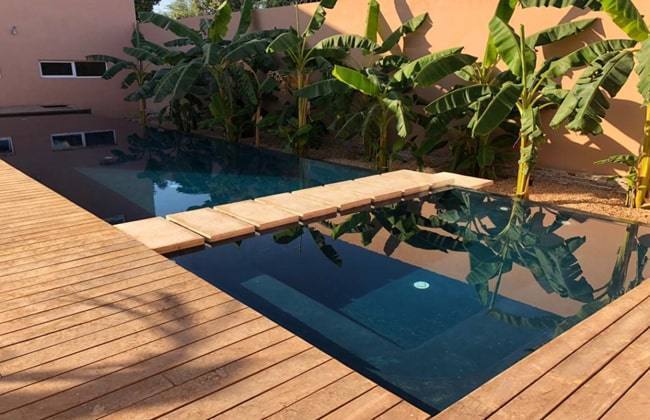 The swimming pool in kit
Contrary to popular belief, not all kit pools are above ground or skimmer pools; more and more manufacturers are offering inground overflow pools; the structure can be made of steel, wood, modular panels or polystyrene blocks. To be financially interesting, a kit must be installed by the customer; an installation manual or a video is provided to explain how to install it. However, it is always possible to have it installed by a third party.
The main advantage of the kit is the price; it is undoubtedly the solution for those who want a pool in their garden but have a tight budget. Calling in the installer can double the total cost.
The shapes and dimensions are imposed, so it is you who will have to adapt your project and not the other way around. Some manufacturers offer custom projects, but the budget is not the same and other options may be preferable.
Note: Waterproofing will be ensured by a liner provided in the kit. We tell you more about pool linings here.
The overflow shell pool
In order to adapt to the growing customer demand, manufacturers of polyester shells or acrylic shells have asked themselves how to make an infinity pool by themselves. They therefore propose, as an option, to add an overflow, either perimeter or on one side.
Once the excavation is done, a shell pool can be installed in a few hours. The pool is delivered to the construction site by a special crane truck. Once the installation is completed, the filtration system is connected and the pool is carefully backfilled.
This option, which is more expensive than the previous one, does not offer a custom-made model. You can see some models on this site 
A DIY concrete pool
Another option is to do the job yourself. When we talk about a concrete in-ground pool, we usually think swimming pool builder, but there is another solution. In fact, more and more blogs are springing up to explain how to build an overflow pool; it's in the air of the times!
The basic principle is simple: from plans made by you or a professional, you make your own pool. The most suitable construction method is the use of reinforced concrete blocks, which is easy to use by any DIY-er.  The implementation is relatively simple since the blocks are used as formwork and structure is therefore made in steel reinforced concrete.
With this formula, you control the size and design of the pool but also your budget and the progress of the construction site.
Indeed, depending your available free time, your DIY skills, the free cost labour you have, etc… you can choose to call in outside contractors or build it yourself. Your involvement will determine the total cost of the project.
How to build an infinity  pool with non-specialised companies
You wish to take a more or less active part, but digging, masonry, … does not interest you. You have the possibility to use the services of a general building company or independent masons, plumbers and tilers.
You do not have any time to get involved in your building site.
In this case, it is best to have the pool built by a general contractor who will take charge of the construction site from A to Z. This is the safest but most expensive solution. Your intervention will then be limited to a global comparison of quotes and to know how to take advantage of an opportunity (for example, to feel if the company needs to work at such and such a time) to reduce the proposed price and to obtain the most logical guarantees and terms of payment (according to the progress of the building site). In this case you will be able to save about 10% compared to the estimate of a swimming pool specialist.
You have time to at least manage the purchase of materials and equipment for the technical room
Here you will be able to offer companies a fixed-price contract for labour only, specifying that you will provide, at their request, all the necessary purchases. This will require from you a good follow-up of the building site and time to look for the best possible prices (internet, suppliers…). This solution can save you another ± 15%.
Note that some will tell you that the ten-year guarantee will not work in this case; it will be up to you to estimate the importance of this.
You have the time to manage your construction site totally and daily.
You can hire workmen (mason, plumber…) on your terms (employees or self-employed) and follow them completely in their work (plans, steps…). You will still have to provide them with all the necessary materials and equipment, but you will not be able to rely on them too much for order forecasting or site management.
You really have to be the "entrepreneur". This solution can save you another 15% more. And again, no ten-year guarantee, of course.
So we can see that the result of such an involvement on the part of the customer can allow a saving of between 10 and 40% compared to the price of a professional pool builder.
You are very handyman and have time
Those who have knowledge of the building and have free time, can carry out this project alone or with friends. In the cost of a swimming pool, one half corresponds to labour and the other to materials and equipment. We can therefore say that the savings are more than 50% compared to the same project built by a pool builder.
How to get help to make an infinity pool
Building a swimming pool is an adventure during which it can be interesting to be accompanied before and during the work.
The design of the pool
Only pool designers belonging to well-known networks or names offer you a customised pool design; it is generally carried out by their design office. An architect or an independent design office specialising in swimming pools is an interesting alternative.
Note: architects are able to design your pool but not always able to foresee the hydraulic diagrams necessary for the work. In this case, they will charge you for a MEP consultant service.  Precise drawings are really the basis for a successful pool construction.
The search for companies
You can take care of it or ask a design office to solicit companies, compare quotes and give you a comparative study. All you have to do is choose the company or companies that suit you. In his way, you stay in control on this crucial issue:  who's going to build my  overflow pool ?
Site monitoring
From earthwork to commissioning, including reinforcement, pouring the foundation, raising the walls and installing the fittings to be sealed, professional assistance can be useful.  Thanks to the current technical médias, a follow-up of work can be done remotely.
Don't forget: Whatever the construction method chosen, overflow pools must be buried or semi-buried. In France, they are therefore subject to administrative procedures and may require the filing of a declaration of work form or obtaining a building permit depending on their surface area.
You want to know more about usYou want to know more about us