Have you ever dreamed of having a swimming pool with a spa to create your own private piece of paradise in your garden? Making a pool and spa your own private oasis is becoming increasingly popular, with the aim of using it to improve physical and mental health, enhance relaxation, and bring joy to your living space.
It is wise, however, to carefully plan and consider numerous important considerations when adding a spa to your pool design. 
Why you should include a spa in your pool design
You're probably wondering why to design your pool with a spa. In this section, we'll look at the outstanding benefits of having a hot tub in your home. Not only will a spa provide relaxing moments after a long day, but it also adds a great deal of value to your property.
Adding value to your property
Many benefits can be gained from including a spa in your swimming pool design.
Not only does it create an attractive space for wellbeing and relaxation, but a pool with spa can also significantly increase the value of your property.
An outdoor space can be enhanced with a pool and spa combination, which is typically considered a luxury feature.
Benefits for health
What's more, the hydrotherapy benefits offered by a spa are numerous.
The benefits include the reduction of stress, the improvement of blood circulation, the relief of muscle pain, and the improvement of sleep.
Therefore, a pool with spa project design offers not only a soothing haven for relaxation, but also therapeutic advantages.
Spas come in different types
When it comes to selecting the right spa for your pool, the choice can be confusing. To assist you in making the best choice for your needs and preferences, we will break down the different options available. It is important to compare the features of each hot tub option so that you can make the best decision.
An integrated spa into a pool design
When you consider including a spa in your pool design, you have many options at your disposal.
Built-in jacuzzis, for example, are directly connected to the pool. Spillover spas are an interesting way of integrating a spa into the design of a pool, offering a unique and visually appealing design element.
This pool spa combo offers a harmonious visual appearance and provide an easy transition between swimming and relaxation. With an overflowing spa, you can create a beautiful and soothing visual effect, as well as a calming sound.
Separate hot tub adjacent to the pool
The addition of a separate Jacuzzi adjacent to the pool is another popular option.
This offers more flexibility in pool and spa design. It allows you to enjoy the benefits of warm water without having to heat the entire pool, saving energy and money.
Moreover, it creates a calming environment separate from the pool area hustle and bustle.
Stand-alone spas
Finally, stand-alone spas can be placed away from the pool, offering added privacy.
Smaller than a pool, they can be installed near the house. Due to their location, they can be used throughout the year.
Additionally, their convenience and portability makes them the perfect choice for the homeowner who does not want to invest in a fixed pool installation.
We can help you design your pool spa combo.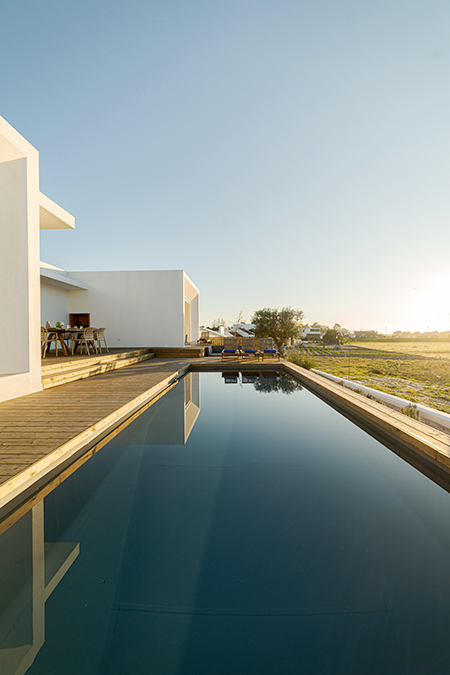 Incorporating a spa into your pool design: what to consider
It is not an easy task to incorporate a spa into your pool design. It is important to consider many factors when planning your project.The following section provides a brief overview of the main points to consider when adding a jacuzzi to your swimming pool.
Technical issues
The inclusion of a spa in a pool design requires careful consideration of technical aspects.
The first consideration is the plumbing, which must be able to handle the additional volume of water. Furthermore, it is essential to ensure the filtration system is well-sized to maintain clean and clear water. The heating system must also be powerful enough to maintain a comfortable temperature in the Jacuzzi.
Space and placement of the jacuzzi
It is also worthwhile to consider spa spacing and placement. Considering this, you should aim to plan the pool and spa area so that the two are balanced and complementary.
It needs to be easily accessible, ideally located close to the house for quick access during the colder months. It also needs to blend harmoniously into the surrounding landscape.
The budget
In addition, it is essential to consider your budget and costs to make sure that your spa project is financially feasible.
This includes not only the initial cost of installing the jacuzzi, but also the ongoing costs of heating, maintenance and repairs.
How a pool plan designer can help you
The complexity of including a spa in your pool design might make you want to call a professional. With their experience and knowledge, pool plan designers can be the key to a successful pool and spa design that meets all your requirements and stays within your budget. He or she will help you realise your dream, avoiding costly mistakes and saving you time.
Creative and technical skills
If you are looking to design a spa and pool combo, a pool designer can provide you with the technical expertise that you require.
Their expertise can help you navigate technical details, optimize space, and design a swimming pool and jacuzzi that will seamlessly blend into your outdoor environment. As well as this, the hydraulic circuit must be designed in such a way that it is efficient and economical to operate.
Avoid costly mistakes and save time
In addition, working with a professional can save you a great deal of time and money.
A pool plan designer can assist you throughout the entire process by understanding your needs and desires. In addition to handling all technical details, they can assist you in avoiding costly errors. Furthermore, they can assist you in finding the most cost-effective solution for your project. Lastly, they can provide you with valuable advice so that you will be able to enjoy your pool and spa for many years to come.
Catherine's advice
≠ 1 : Think carefully about where you want to position your jacuzzi in relation to the pool.
Think about the pool and spa orientation, the sun, the wind direction and the view from the house or garden. Consider how the natural landscape complements the pool and spa area, enhancing the outdoor experience.
≠ 2 : A good filtration system is essential
Without proper filtration, swimming pool and spa water can quickly become contaminated and unhealthy.Consider that the warm water encourages the growth of microorganisms, such as algae, bacteria, and fungi.
≠ 3 : Plan your budget
Make sure you factor in all the costs associated with owning a swimming pool with spa, such as installation, heating, ongoing maintenance, and potential future repairs. However, many people still believe that the benefits of owning a swimming pool with spa, such as being able to relax at home, outweigh the costs.
≠ 4 : Call in a professional
A pool plan designer can explain the various ways in which a pool and spa can be combined. Creating a custom design that uniquely blends the two will result in a one-of-a-kind spa and pool experience. For example, a pool plan designer can help you decide if it's best to have your pool and spa built in together, as a single unit, or to keep them separate yet integrated.
≠ 5 : Think long-term
By choosing quality materials, you will ensure that the spa will last for a long time without requiring repairs or replacement. Additionally, an attractive design is one of the things that will maintain the jacuzzi's value for years to come.
Conclusion
When you add a jacuzzi to your pool design, you can enjoy ultimate relaxation, not to mention that your property's value will increase as well.
Working with a pool plan designer will ensure that you have a spa that is both aesthetically pleasing and functional at the same time.
Morana Water Design has the expertise and resources to assist you in creating the pool and spa of your dreams. For more information, please contact us.