Overflow pools are an alternative to pool kits. But how do you choose the right overflow for your land? What pitfalls need to be avoided? How do you prepare your construction project? Find out in our guide.
What types of infinity pools should be built?
No skimmers in this in-ground or semi-in-ground pool, only an overflow:
Cascading/running overflows are the oldest. On one or more sides of a main pool, a weir replaces the coping so that the water spills out. It then flows to a gutter below and then to the filtration system. If you have sloped ground, it is perfect, regardless of whether you have panoramic views.
Zero edge pools, with water at the same level as the terrace, are ideal for flat backyards, patios, etc. Water collected in the gutters surrounding the pool flows into a surge tank, from which the filtration pump draws the water for filtration.
Most of these in-ground pools are built from reinforced concrete (poured or shotcrete) or from formwork blocks.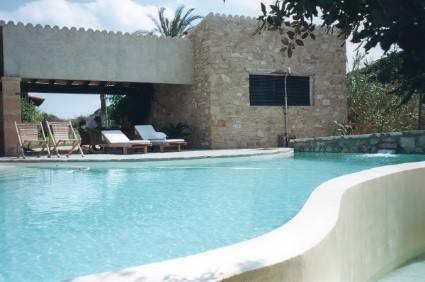 Aside from offering a remarkable visual effect, the overflow effect also ensures that the water is of high quality. However, choosing between an infinity pool and a deck level pool can be challenging. You may need the assistance of a pool designer to choose the right overflow.
What are the current planning regulations?
Similarly to traditional pools, French pool construction rules are based on the size and surface of the pool.
General rules
Mini pools of less than 10 m2 do not require formalities but must, of course, comply with subdivision rules and the PLU.
Owners of pools between 10 and 100 square meters must submit a declaration of works.
Concrete pools larger than 100 square meters require a building permit.
Generally, a pool cannot be located closer than three meters to a neighbor's fence.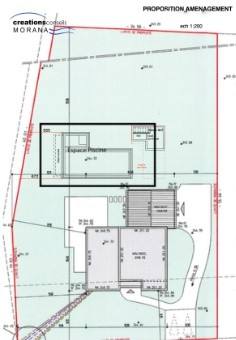 However, there are exceptions based on each municipality's land use plan.
Some special features
No authorization is required for the installation of above-ground pools less than three months per year, regardless of their size.
A building permit is required if the pool enclosure is higher than 1.80 meters.
There are some municipalities that prohibit the use of blue waterproofing materials (liner, reinforced membrane, polyester, mosaic, etc.).
Special rules apply to indoor pools and to pools built in safeguarded areas.
How to conduct a ground study?
It is the purpose of a soil survey, also known as a geotechnical survey, to characterize the soil type. An engineer writes a report after taking geological samples from the subsoil in order to advise on the type of foundation, formwork, and reinforcement of an in-ground pool.
Therefore, these studies do not apply to aboveground pools, and they are not mandatory, but highly recommended. It is possible for issues such as ground movement, rock or cavities that are invisible on the surface to impact a pool's strength and longevity. By adapting the construction method, these issues can be addressed.
This study must be provided by the seller of any unbuilt building land, since 2020 (ELAN law).
Here are some tips on how to design an overflow pool
A zero-edge pool or an infinity pool can be drawn in a variety of ways.
An outline of the pool is used to place the pool on the land and a section indicates where the bottom is to be located. The document can then be used to file a declaration of work and hire a pool builder.
Plan designed with a drawing program has greater precision. Adding trees and deckchairs is possible, but this tool has no answer to questions such as how to make an overflow? What amount of water should be in the balance tank? How should the parts in the pool be sealed (inlets, bottom drain, etc.)? And many more?
To build a pool yourself, a plan is essential. An infinity pool designer shares his expertise by presenting plans compatible with self-construct. His mission is to propose plans that can be accomplished by a company that is not specialized in pool construction.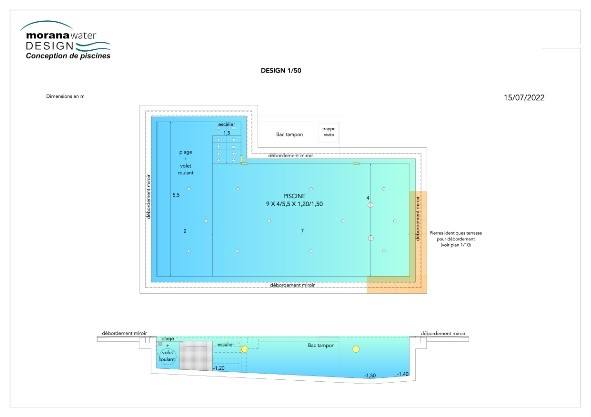 Get advice from an infinity pool expert.
The right equipment: how to choose it?
The space where people swim and the plant room are connected by a system that circulates water. They may also include optional equipment that makes bathing more enjoyable.
The mandatory equipment
The plant room must have a filtration pump, a pool filter, an electrical control panel, a buffer tank water level control system with sensors, and a solenoid valve for filling the pool.
Options available
Some of them need to be installed at the same time as the infinity pool is being constructed. One such system is counter-current swimming, which transforms a small pool into a swimming corridor. Submerged roller shutters can be installed later, but their housing must be constructed concurrently with the pool masonry.
Cleaning a pool and reducing maintenance product use are often challenges. An electrolyze, for example, is an automatic system that facilitates the maintenance of the pool and reduces the consumption of maintenance products. It is generally necessary to use a heater if you intend to bathe for a prolonged time; a heat pump is an obvious choice over an electric heater.
With the addition of various options, a modern pool becomes more functional and practical. Negative edge pools and zero edge pools already possess a rare aesthetic appeal. However, you can also add your own details to make your pool more personal.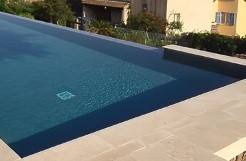 An upcoming pool project is on your plate
Creating an overflow pool is an exciting endeavor, but it should be approached with equanimity. Here are some tips for making your dream pool a reality without blowing your budget:
• Define your project: Determine whether you want a zero-edge pool or one with water spilling on one side, whether you want a submerged deck or not, whether you want an automatic cover submerged under water, etc. Consult with an expert if necessary.
• Make a sketch of your future pool or hire a professional to design it.
• Decide who is responsible for the construction – you in whole or in part, or the craftsmen. Precise plans are essential to precise estimates.
• Compile the list of materials needed to get competitive prices.
MORANA CONSEIL accompanies individuals and professionals in the construction and renovation of infinity pools by putting at their disposal its thirty-year experience in the field.