A careful planning and thoughtful pool design are crucial to ensure a successful end result for the pool construction. With this approach, the pool project can be tailored to fit the available space as well as your budget and aesthetic preferences.
Our objective is to introduce you to the different types of pool designs and how they can be used to create the pool of your dreams.
Shape-based pool design
Not only can the shape impact the look and feel of a pool, but it can also influence how well it functions for entertaining and swimming. For instance, a classic rectangular shape is well-suited for lane swimming and team sports, whereas an organic shape encourages leisurely swimming and relaxation. Therefore, by selecting the right shape, you can ensure that your pool functions for your desired activities, whether it's swimming laps for exercise or relaxing with family and friends.
Rectangular pool design
No matter the size or shape of your yard, a rectangular pool will provide hours of backyard fun. A rectangular pool will provide a great place to cool off, swim, and relax. It can also provide a great spot for hosting family and friends for pool parties and barbecues. Rectangular pools are also easy to install and maintain. Additionally, an automatic cover for this kind of pool is often easier and cheaper.
Oval pools
The soft curves of oval pools give them a more natural look, making them feel less imposing and more inviting. The lack of sharp corners makes it much easier for children to get in and out of the pool without fear of injury. Additionally, oval pools can also be equipped with an integrated access staircase for added safety and ease of use. In short, oval pools offer an attractive, safe, and functional option for any family.
L- or T-shaped pools
An L-shaped pool or a T-shaped pool is designed to fit the shape of your backyard and make the most use of the available space. Not only does it offer a main swimming area, but it also has a separate shallow section for activities such as relaxing or wading. It can also be designed with a variety of features, such as built-in seating and spas, to make them even more enjoyable. Indeed, it's a great way to maximize the use of the space and provide a variety of activities for everyone!
Free-form pools
Whether you're looking for a classic or modern design, free-form pools are the perfect choice to create your own unique outdoor oasis. You can also customize the pool's look with features like waterfalls, spas, and lighting. Additionally, you can add unique touches like a sun shelf. This sort of pool design can be incorporated into existing landscaping and architecture, creating a truly unique outdoor space. Free-form pools are often made of shotcrete to ensure durability and maximum design freedom.
Pool design according to its position in/on the ground
In-grround pool design
In-ground pools are the most common pool type. They are usually constructed by digging a hole in the ground to install the pool structure. In-ground pools are typically made of concrete, polyester, or steel panels and are typically larger than above-ground pools. They offer the most bang for your buck in terms of longevity, size, and value addition to your home. Additionally, they also offer the added benefit of being able to blend in with the surrounding landscape, creating a natural look and feel.
Semi in-ground pools
Semi-in-ground pools are often easier to install than in-ground pools because they do not require as much digging. Additionally, they are less expensive to install as they do not require as much labor, materials, or specialized equipment. On top of that, they are well-suited for sloped or difficult ground, making them a great option for those who do not have a flat yard. Made from various materials, such as wood, steel, or concrete, they offer a unique aesthetic, combining the advantages of both in-ground and above-ground pools.
Above ground pools
Since above-ground pools are not built into the ground, installation is simpler and faster. Additionally, they require fewer materials and are more affordable than in-ground pools. It is an economical and convenient way to enjoy swimming and leisure in your own backyard. Above ground pools are available in a variety of sizes and are usually rectangular or round. They are made of vinyl, PVC, or wood. Furthermore, they do not require extensive maintenance and can be easily dismantled and stored in winter or off-season times.
Make your pool project a success with a reliable partner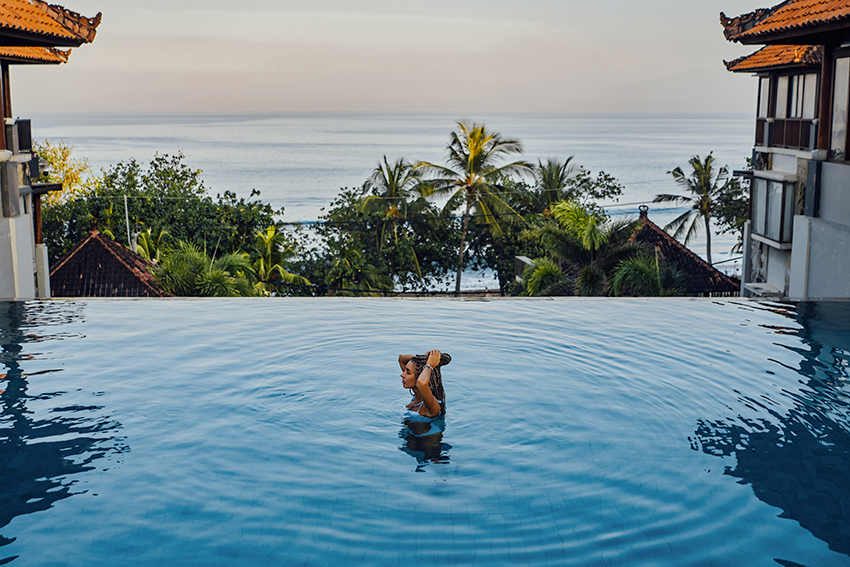 Pool design by equipment and features
Equipment and features for your pool can enhance your swimming experience and add a touch of luxury.We will discuss popular options such as heated pools, infinity pools, and pools with sun shelves.Additionally, we will discuss tips for selecting features that are most appropriate for your lifestyle, needs, and budget.
Heated pools
Heated pools use a heating system to maintain a pleasant water temperature all year round. These pools extend the swimming season and maximize user comfort. There are several heating options for pools, such as heat pumps, heat exchangers, electrical heaters or solar systems. Each heating option has its own advantages and disadvantages. One must consider the costs, comfort, energy efficiency, and environmental impacts of each type of heating to determine which option is the most appropriate. However, many users feel that the increased comfort and extended season are well worth the cost.
Overflow pool design
Infinity pools feature a dramatic design where the water seems to merge with the horizon. They are particularly suited to lots with panoramic or elevated views. Mirror pools have a coping that blends in with the surrounding deck. They are particularly suited to pools nestled in a garden and bring serenity to the area. Both require a more complex filtration and water circulation system, which greatly improves the quality of the pool water. As such, infinity edge and zero-edge pools are not just aesthetically pleasing, but offer enhanced functionality and improve the homeowners' swimming experience too.
Pools with sun shelves
Pools with a submerged deck have a gently sloping entry area that mimics a natural beach. This makes the transition from shallow to deep water smooth and safe, allowing for a variety of activities that would not otherwise be possible. In addition, this feature is not only ideal for families and people with mobility issues, but it also helps create a luxurious, beach-like atmosphere that everyone can enjoy. This space can also be flat, like an extended step. In this case, sun beds can be incorporated into the pool design.
How to use a pool plan effectively?
A pool plan provides a diagram of the pool's size, shape, and depth, and also includes information on the type and placement of pumps, filters, and other pool equipment. By understanding these details, a homeowner or contractor can ensure that the pool is built correctly and safely.
How to read a pool plan
The first step is to understand the symbols and notations used on pool plans. They indicate specific features such as lights, water jets, steps, or ramps. It may also indicate the materials to be used in specific areas or indicate the depth or slope of the pool. Additionally, some pool plans may also show the recommended locations for pool equipment, such as pumps, filters, and heaters.
Teamwork is key
If you decide to work with craftsmen to build your pool, it's also essential to communicate effectively. Having a pool plan ensures that both parties are on the same page and can easily exchange ideas and information. In addition, it allows for discussion of any areas of confusion or concern, and ensures that everyone understands the vision for the project.
Flexibility
Finally, a good pool plan should be flexible. This flexibility should allow for future adjustments as needed. A flexible pool design allows for the pool to be adapted to changing needs and conditions without being redone. This saves time and money and enables the pool to remain an attractive and inviting place to visit. Moreover, it allows the pool to remain safe and enjoyable for its users, as changes can be made quickly and easily.
How to choose the right pool design ?
Besides the essentials, such as filtration, heating, and lighting, your pool can be equipped with a number of comfort and safety features to enhance the swimming experience and ensure the safety of users. For instance, pool covers can provide both insulation and protection when not in use, while railings and steps can ensure easier entry and exit.
Decide what you want from your pool
Once you know what you want, use your imagination to create a pool design to bring your vision to life. Keep your plot size, budget, and lifestyle in mind as you consider what you'll use the pool for—relaxation, entertainment, or exercise? Local regulations must, of course, be considered.
Call on a pool designer
A pool professional can assess your goals and provide specific recommendations tailored to your needs. He must be able to help you choose the right pool design for your project and needs. He must also guide you through the design and construction process.

Conclusion
From modern infinity pools to traditional lap pools, there is something to suit every taste and budget. With the help of experienced designers, the right pool design can be selected based on the size and shape of the outdoor space, as well as the budget. With great attention to detail, experienced designers can help bring to life the perfect pool for any outdoor space, ensuring a unique and memorable experience for all.
By taking advantage of the expert advice offered by a qualified pool designer, you can ensure that your pool will provide a lifetime of enjoyment and lasting value.