Designing a pool based on your dreams is a delicate and complex undertaking.The process requires careful attention to detail and a thorough understanding of the various components.During this process, the pool plan designer plays a key role.
The services of this qualified professional are essential for the creation of a pool that is unique, functional, and aesthetically pleasing.
How do you define a pool plan designer?
A pool plan designer, also known as a swimming pool designer, is a professional trained and experienced in swimming pool design. Their expertise stretches far beyond aesthetics; their skill sets are comprehensive, from creating visually appealing designs to ensuring the pool is structurally sound and functions properly.
For example, a good pool designer will be able to incorporate natural features like rock formations and waterfalls into the design, creating a beautiful and unique pool scape.
Exactly what does a pool plan designer do?
A pool plan designer can be a valuable partner in the pool-building process, but it is important to ensure that the scope of the project and the designer's role is clearly defined.
An experienced pool designer will study your space, consider your preferences and needs, and create a unique and personalised design. He or she will plan all technical aspects of the pool, including the filtration system, lighting, heating, and so forth.
Additionally, they will be able to assist you in understanding local building codes and regulations.
What a pool plan designer does not do
However, a pool plan designer is not a pool builder. They will not be the ones digging the hole, pouring the concrete, or installing the filtration system. Instead, they provide guidance and expertise on the design of the pool, helping the builder create the pool of the client's dreams.
Likewise, they are not professional landscapers. They may not be able to provide a detailed landscaping or planting plan. However, they can help you coordinate with a landscaping professional to ensure that your pool and surrounding landscape are perfectly integrated.
Why call in a pool plan designer?
By having a swimming pool designer to help, you can take the stress out of the design and construction process, and be sure that the result will be a pool that meets your needs and expectations. With their experience and expertise, they can help avoid common design and construction mistakes that cost time and money.
In addition, his thorough knowledge of building codes and safety standards ensures that your pool will comply with all local regulations.
Also, he can provide a creative perspective, offering innovative ideas and designs that you might not have thought of on your own.
You are just a few steps away from the pool of your dreams!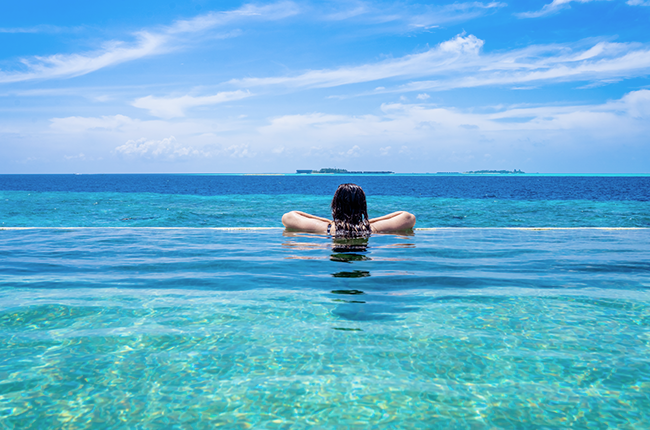 An overview of the pool plan designer's working process
An initial consultation, on site or remotely, is usually the first step in the process of working with a pool designer. During this consultation, he or she will gain a comprehensive understanding of what you want to achieve. This will enable them to provide the most suitable advice and design options to suit your needs.
In the next step, they will perform a detailed analysis of your site, considering factors such as climate, topography, and environmental conditions.
The designer will develop detailed plans in response to this information, including not only the design of the pool, but also aspects such as the filtration system, heating system, and lighting system.
Throughout the construction process, this professional will work closely with you to ensure that everything goes smoothly.
Choosing a pool plan designer: how do I do it?
Selecting the right pool designer depends on many factors. Experience and references are key, as is the designer's creative style and approach to pool design.
It's imperative to pick a pool creator who understands your needs and desires. He or she should be able to translate them into a beautiful and functional design.
Talk to them, review their portfolio, and ask for references and portfolio to ensure that the pool to be created is in line with one's own vision.
Serge's advice
≠ 1: Identify your needs and wishes
Before you begin working with a swimming pool designer, it is important to determine what you are looking for. How many people will be using the pool? Are you interested in using it for sports, relaxation, or both? Are there any children in your family? Your family's use of the pool and any special requirements you may have will enable the designer to draw a pool that is both functional and aesthetically pleasing. This will ensure that your pool is an investment you will enjoy for years.
≠ 2 : Gather land and surrounding environment information
A thorough knowledge of the site is essential. More than a visit, photos and a topographical plan help the pool designer make the most of the site. For example, a sloped lot can provide the opportunity to create a negative edge pool. In contrast, a flat lot can be transformed into a modern oasis with perimeter overflow.
≠ 3 : Select the right swimming pool designer
If you are looking for someone to design your pool plan, you need to make sure they are knowledgeable and experienced. They should be able not only to draw the shape of the pool, but also to provide all the necessary instructions and plans for the construction of the pool, from the piping to the installation of the equipment.
≠ 4 : Think long-term
Swimming pools are long-term investments. During the design of your pool, you should take into consideration future maintenance costs, the durability of the materials, and the ease of cleaning. Additionally, it is wise to choose materials that can be upgraded as technology advances so that the pool remains modern and up-to-date.
≠ 5 : Communication
Open and honest communication is essential to ensure smooth collaboration. Make sure you discuss your ideas and concerns with your pool plan designer and ensure you understand every step of the design and construction process.

Conclusion
Working with a pool plan designer can be a rewarding and productive experience, but it's wise to keep a few key tips in mind. First, be open and communicative about your wants and needs.
Secondly, be prepared to listen to the designer's advice; they are the experts when it comes to designing the perfect pool, but don't hesitate to give your opinion if something doesn't suit you.
A pool plan designer is essential to creating the pool of your dreams. With their expertise and creative vision, they can help you turn your dream into a beautiful, tangible reality. Working closely with the right swimming pool designer will ensure that your pool project is a success.