The process of choosing a pool shape is like picking out a frame for a painting – the shape of the pool will determine how the garden looks when it's finished. With a multitude of options available, finding the pool form that perfectly suits your needs, space, and lifestyle can be challenging. Take your time and consider all the factors before making a decision.
By the end of this article, you will be better equipped to confidently select the pool shape that meets your needs and preferences.
Common pool shape options
Rectangular pool
Rectangular pools have a classic look and provide an excellent opportunity to add a modern twist to the outdoor area.
Active swimmers who want to swim longer laps will love these pools. Plus, they're great for entertaining and for aquatic activities. In addition, rectangular pools are highly versatile and can be incorporated into any landscape design.
Advantages
Perfect for active swimmers : A rectangular pool is ideal for swimming laps and training in.
Timelesss appearance : No matter what style of house you have, these pools will look great.
Easy to meaasure : Because of its regular shape, the water capacity and surface area are easy to calculate.
Disadvantages
Limited customizability : This can limit the level of creativity a that homeowners are looking for in their outdoor living space.

Require more space : They often require a higher amount of space in the backyard as well as they need for landscaping for creating a more attractive appearance.
Oval pools
Oval pools are another popular shape. This is similar to how a circle and a rectangle are two different shapes, each with their advantages and disadvantages. Oval pools offer a unique combination of both circular and rectangular elements, allowing for more flexibility in pool design.
Benefits
Aesthetically pleasing : Their curves are visually appealing, creating a calming atmosphere.
Ideal for medium-sized plots: Their versatility also makes them suitable for a range of garden sizes, from intimate to expansive.
Drawbacks
Less space for swimming : This can be especially problematic for those who use their pool for exercise, since they may not be able to swim laps due to the pool's size and shape.

Price of the pool cover : Automatic covers, and blankets are more expensive for oval pools because they need to be custom-made to fit the pool shape.
L-shaped pools
L-shaped pools are an eye-catching design choice for any backyard, providing a unique, modern look with plenty of space for activities and relaxation.
Pros
Multipurpose space : This pool form is ideal for an array of activities, from swimming and paddling to soaking in a luxurious Jacuzzi.
Ideal for large plots :They are perfectly suited to larger garden plots, providing plenty of room to enjoy.
Cons
Costly and complicated to install : The cost of building an L-shaped pool is higher as well as it requires more time and planning to build them.
Eight-shaped pools
With their unique shape, eight-shaped pools can help to create an eye-catching yard design that both looks great and provides the perfect space for a variety of activities. They are a great way to have fun, whether swimming laps or lounging in the water.
Advantages
Stylish and unique: These pools make your backyard stand out.
Separate zones: Eight-shaped pools can be used to separate activities like L-shaped pools.
Disadvantages
Complex to build: The design and construction of these pools are more challenging
Maintenance: The maintenance of these pools is also more expensive.
Price of the cover : pool covers must be tailored made
Put your pool project into action now.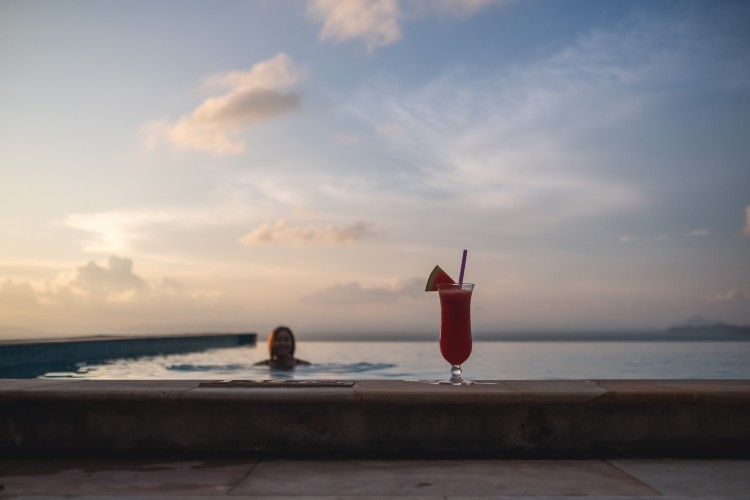 Infinity deck pools
Vanishing edge pools are not, strictly speaking, swimming pool shapes. Although one or more open edges as well as an overflow channel do make the structure as a whole unusual. In the same manner as the pool shape, the type of overflow (negative, zero-edge, rimless, etc.) should be chosen carefully to allow the pool to blend in with its surroundings.
Pros
Stunning visual effect: These pools can create the illusion of water stretching to infinity, which is particularly striking when the pool overlooks a breathtaking view.
Any shape is possible: An overflow pool can be square, rectangular, circular, or free-form, for example. Regardless of the pool shape, it will always retain its elegance and sophistication.
Cons
Expensive to build : The cost of building these pools is generally 20% higher and the filtration system is more complex. It is possible to minimize the cost of overflow pools, however.
Pool in a free-form shape
Consider a free-form pool if you are looking for a more natural look. You can design these pools in any size and shape you may desire – whether you wish to mimic a natural lake, a tropical lagoon, or a desert oasis.
Benefits
Design flexibility : Free form pools allow for a versatile design that can incorporate natural elements and the unique features of your property. It's the perfect way to maximize your outdoor space.
Allow creativity : You can customize the shape to match your aesthetic vision. A free form pool can be tailored to fit your individual style, allowing for creative solutions to your aquatic landscaping.
Drawbacks
Costly : For instance, installing a custom-shaped pool with complex curves can require more labor and material costs than a standard-shaped pool.
More maintenance needed : Regularly cleaning and maintaining an irregular shape may take more time and energy than a symmetrical one. It can be difficult to reach tight spaces and corners to clean them properly.
How to choose a pool shape
Choosing the right shape for your pool can be challenging. The choice you make will have a significant impact on how much you enjoy swimming in your pool. Moreover, it will help you determine how well your swimming space will blend with the rest of your property.
Available space
Clearly, this is the most important factor. Your garden's size and shape can greatly affect the shape of the pool you choose. For instance, if you have a long and narrow garden, a rectangular pool would make the most efficient use of the available space. On the other hand, if you have a large and open space, a free-form pool can be a great option if you want a more organic look.
Pool uses
How will you use your pool? You may benefit from a rectangular pool if you are an avid swimmer. Pools that have a free-form or oval shape may provide a more relaxing atmosphere if the pool is primarily intended for relaxation or games.
Home and garden style
There should be a harmonious blend between your pool and the rest of your outdoor space. Traditional-style homes can benefit from a rectangular pool, while natural-looking gardens can benefit from a free-form pool.
The budget
You should keep in mind that some pool shapes are more expensive to build and maintain than others. A free-form or overflow pool, for instance, may require more complex construction work and a more elaborate filtration system.
The security
Some pool shapes may be safer than others. Particularly, those with rounded edges and shallow depths may be less prone to accidents. For instance, a beach entry pool, where the edges are gradually sloped instead of sharply angled, can reduce the risk of slips and falls.
Local regulations
Finally, check local regulations. Some areas may restrict pool shape, size, or depth. For example, in some parts of the United States, a homeowner may only build a pool up to a certain depth or size, depending on the regulations of their county or city.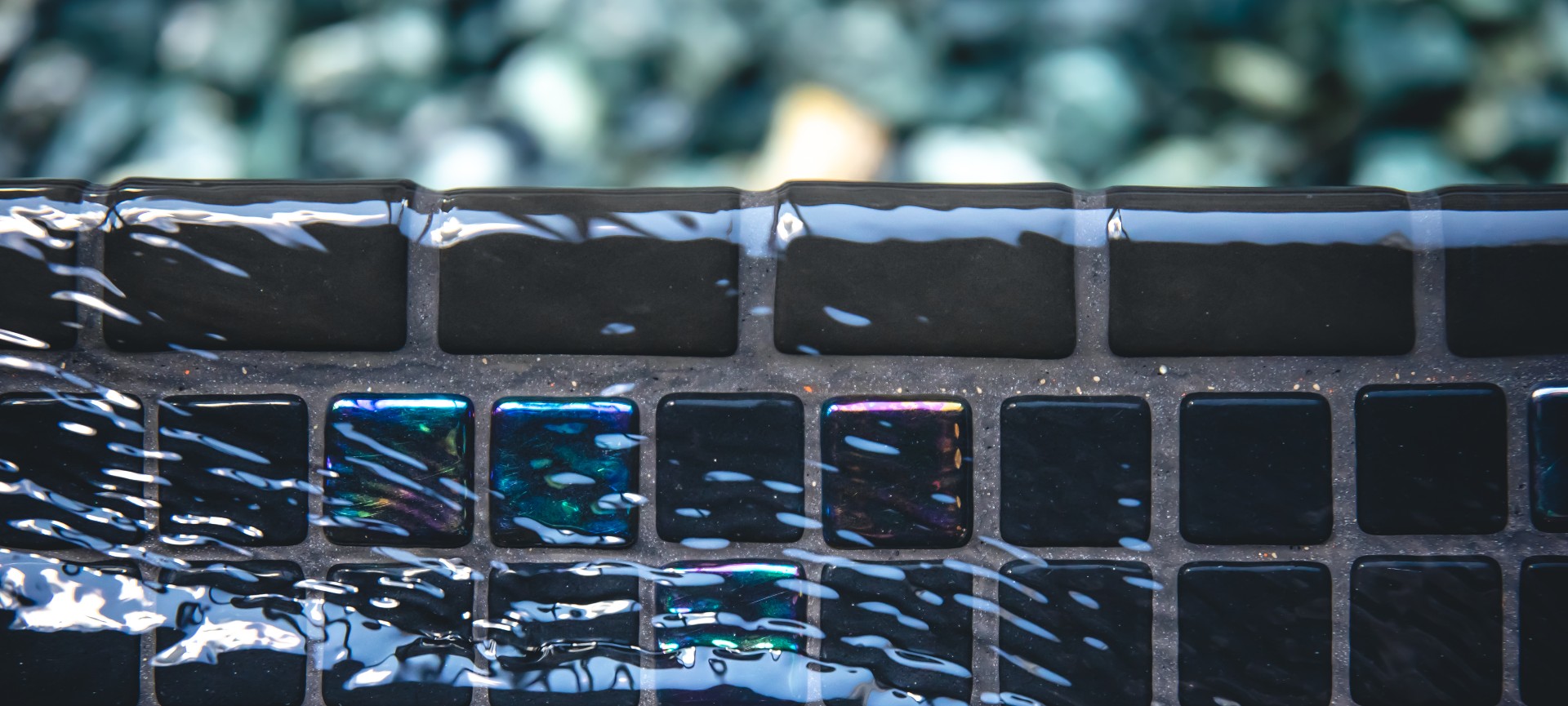 Conclusion
You will greatly influence the ambience of your outdoor space by choosing the shape of your swimming pool.
Whether you prefer with a classic shape or a more creative design, remember to consider everything from the space available to your lifestyle and home aesthetics.
It doesn't matter what shape you decide for your new pool, it is certain to be a welcome addition to your home, providing hours of enjoyment and relaxation.