The infinity pool is not only a pool to cool off in the summer. Your home has a real added value in terms of aesthetics. This type of pool offers a touch of elegance and luxury to your home. But for this, you must think big and opt for a bespoke pool with an original and innovative design. To stimulate your imagination in your pool construction project, discover the most beautiful infinity pools in hotels around the world.
Portugal: The 5-star Conrad Algarve Hotel
The Conrad Algarve Hotel in Almancil offers unparalleled luxury. unparalleled luxury. To refresh and relax, guests can swim and soak in one of the three outdoor and indoor pools. Each pool offers its own unique design, including the heated Serano infinity pool, located behind the lobby. This modern above-ground pool offers a tranquil setting with a sun deck. Alternatively, you can opt for the heated indoor pool of 75 square meters, located in the relaxation and wellness center. A beautiful pool bottom distinguishes this modern pool with a mosaic flower decoration. mosaic.
The Canary Islands: Roca Nivaria Hotel in Tenerife
To enjoy the good weather all year round, the Canary Islands are a first-choice destination, especially the island of Tenerife. Here you will find a luxury hotel that allows you to relax while enjoying the beautiful view. This hotel offers a spa with Jacuzzi, sauna, and hydro-massage pool. There are also two infinity pools, each with a different pool water. On one side, there is the pool with air-conditioned sea water. On the other side, there is a pool with fresh water at an ambient temperature. Both private pools offer an unusual design with a free form.
Whatever the nature of the pool water, ensure it is clean with a good filtration system, installed in the plant room.
Spain: The luxury hotel W Barcelona
The W Barcelona is one of the largest luxury hotels in Spain. It is therefore not surprising that this hotel offers its guests an extraordinary infinity pool. Designed by Spanish architect Ricardo Bofill, this infinity pool offers an aesthetic that is both classic and innovative. Rectangular, this traditional pool with a flat bottom offers a long swim lane suitable for swimmers of all ages. After swimming, guests can lounge on one of the After swimming, guests can lounge on one of the loungers in this in-ground pool to enjoy the sun. Added to this is the beautiful view of the Catalan capital and the Mediterranean Sea.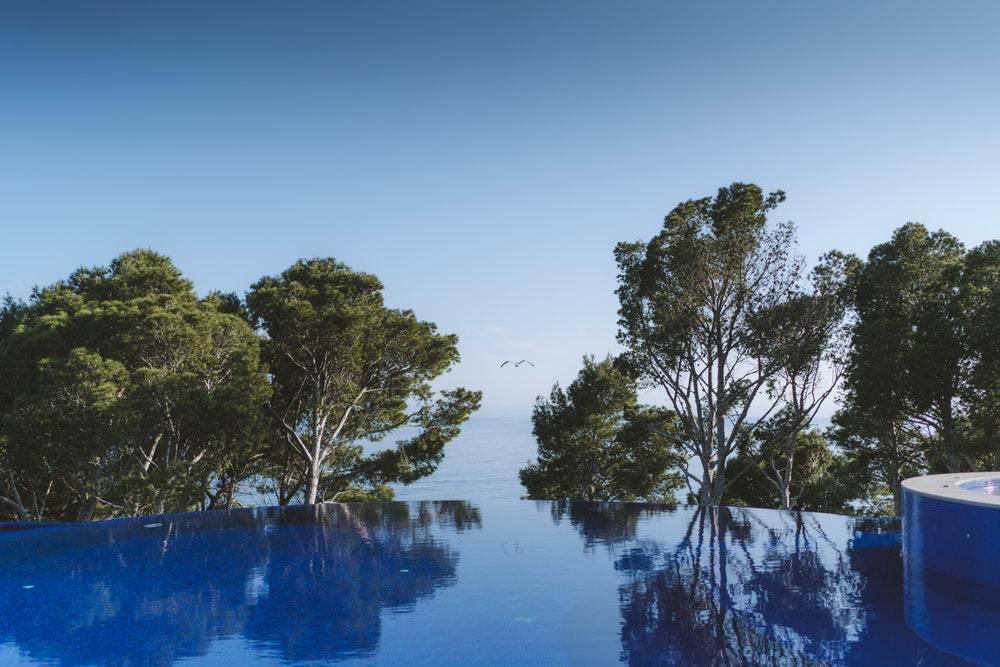 Singapore: Marina Bay Sands Hotel (MBS)
For thrill seekers, the infinity pool at Marina Bay Sands is a superb opportunity. This hotel offers the highest infinity pool in the world. Dubbed the "Infinity Pool", this outdoor pool is located above the hotel, supported by the 3 buildings that act as pillars. The pool is 150 meters long and has a water capacity of 11,300 liters. It is undoubtedly the most impressive panoramic pool in the world. Designed by architect Moshe Safdie, this above-ground pool is now recognized as one of Singapore's landmarks.
Installing a mini pool or small above ground pool is also within your reach, provided you do it right. Depending on the size of the pool and other features, a building permit issued by the City Council is essential.
Balearic Islands: Hacienda Na Xamena
Hacienda Na Xamena in Ibiza is one of the best resorts in the world, offering a true haven of peace in the middle of nature. This 8-level resort offers several private pools with extravagant designs. The most notable aesthetic is the private infinity pool with stacked pools. When guests swim, water overflowing from the pool below spills into the indoor pool below. The hotel offers infinity pools with three overlapping pools. The finishes are authentic, with the pool edges decorated with rocks, as if you were in a natural pool or lake.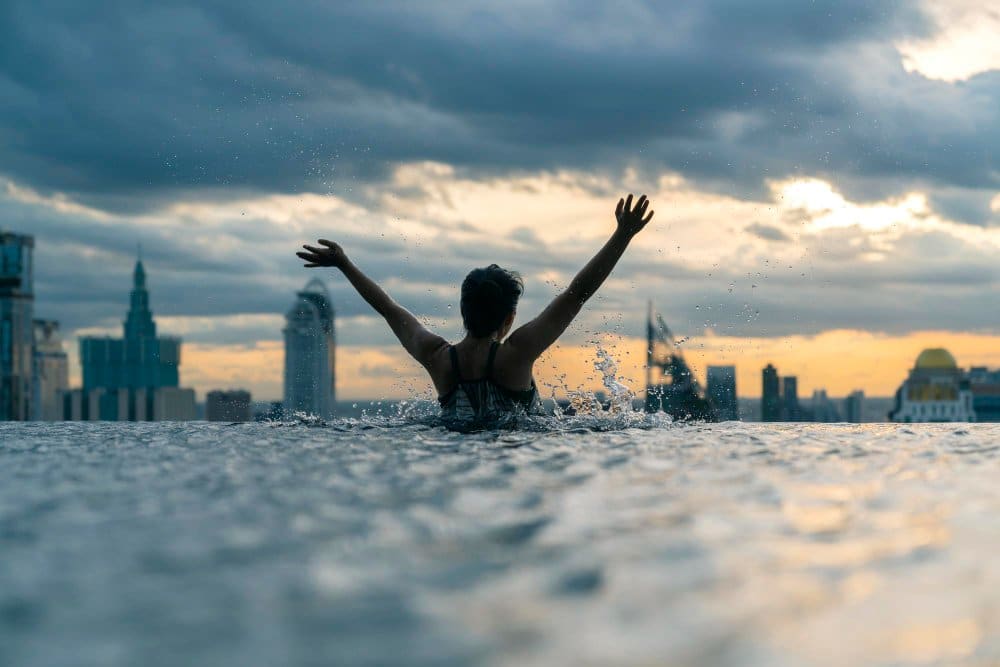 Morana's advice, your specialist in infinity pool plans
More than equipment, a swimming pool is a living space for relaxation and fun. So instead of buying a kit pool, why not build a swimming pool? To help you, Conseil Morana offers its services for the design of plans to build the pool of your dreams.
Our expertise allows us to draw plans for all types of pools: in-ground pool, semi-buried pool or above ground pool. We offer you a complete accompaniment for a pool construction or renovation project. So don't wait any longer to build the overflow pool that meets your needs, your desires, and your budget.