When considering an overflow pool, one wants to include all the options seen in magazines, at friends' houses, etc. All of this comes at a price. Making the right choices in terms of pool facilities begins with a budget.
Budget for a negative edge or a zero edge pool construction
To build vanishing pools, choose the appropriate methods and people.
Assume responsibility for all or part of the swimming pool construction site
Builders or general contractors are the most expensive option. In France, pool builders offer ten-year insurance and handle the entire construction process. It's the "ready to swim" formula.
Anyone with a little DIY skill can consider kit pools or self-construction to reduce the price of an indoor or outdoor pool. Installers can also be consulted in fields in which one isn't skilled. DIY enthusiasts and meticulous can install the pipes, seal the parts (inlets and bottom drain), and install the technical room.
Choose a more economical construction method
To build an in-ground overflow pool, reinforced concrete is a guarantee of durability. Different methods are possible:
Shotcrete or gunite sprayed onto a reinforcing steel fabric using a spraying machine is the most expensive: this technique requires special equipment and personnel skilled in pool construction.
Concrete is poured in between two walls (shutterings) where reinforcement has been installed.
Concrete or polystyrene shuttering blocks are stacked to form walls. By installing reinforcements and pouring concrete inside, the solidity of the negative edge pools is ensured.
The last method is more economical and can be used to build a rectangular swimming pool as well as a wide range of free-form pools. It does not require expensive equipment.
Regular swimming pools constructed with bricks and reinforced posts require a liner or reinforced PVC to be waterproof.
Make an infinity pool or deck level pool budget and stick to it
When we dream of a modern pool, it can be challenging to stay within our budget. After installing a pool, its landscaping must be planned. A wooden deck, rocks, or a jacuzzi bench are all interesting options, but they are pricey.
It can be helpful to consider how your dream pool will be used. Seek advice from professionals in pool construction. Their experience and knowledge will guide you towards the right design for your environment, your desires, and your budget.
Many amenities can be added later, including a counter current swimming system (jet swim), heat pump, or salt water chlorinator. Taking them into consideration during the design process is therefore advisable. Some of them require pre-installation.
How much should you budget for an in-ground pool? To answer this question, go to this article.
Check references and offers before hiring
Pools with mirror effects or negative edges are expensive. Spend time researching and comparing quotes. Be sure to pay attention to the references and services provided by each company.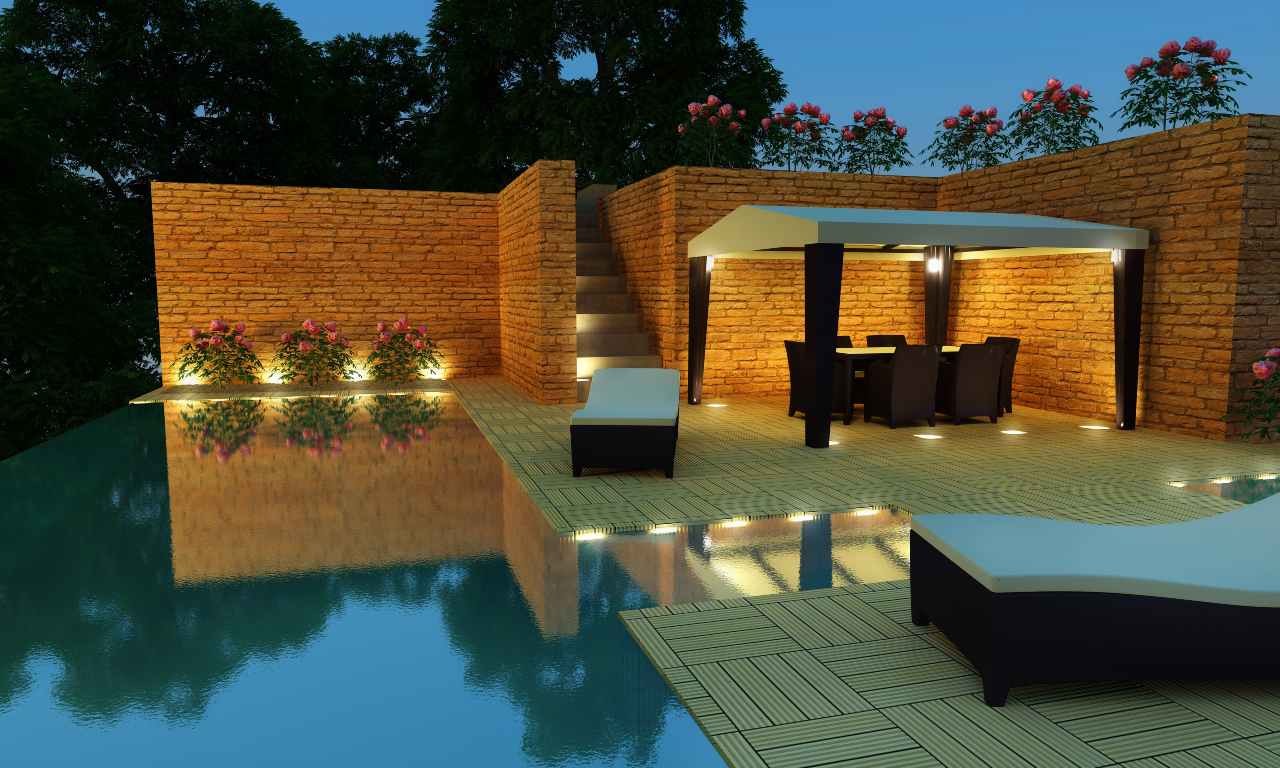 Concentrate on a simple design and less expensive but quality materials for your pool
With certain design choices, swimming pools can be constructed for less money. By respecting the ground profile, earthworks and backfilling are less expensive on sloped ground. Building a pool with a flat bottom is cheaper than one with a sloping bottom.
If you choose the right pool finishes, you can save a lot of money. PVC membranes are pricier than pool liners, but worth the cost. Flexible waterproofing hydraulic coatings offer similar visual effects and longevity at a lower cost.
Tax declaration for infinity or zero edge swimming pools
For English speakers living in France, the surface area of the pool must be less than 10 m² and it must be installed above ground without masonry structures. This tax applies to buried or semi-buried private pools, whether they are swimming pool kits, concrete or polyester shells, or reinforced concrete pools (projected or poured).
You can be exempt from property tax for 2 years by making a declaration within 90 days of completing the work. This exemption does not apply to pool renovations.
For more information on the declaration of work for an infinity pool, click here.
Consider the size of the vanishing pool
Pool size affects construction costs, taxes, and maintenance. Deep pools (over 1.50 m) are not recommended unless you enjoy diving. Filtration systems, water treatment products, and heating systems cost more as the water volume increases.
Maintaining a pool is also expensive. A large pool requires more electricity and maintenance products.
Choosing an ideal location
Location is key when building a concrete pool, but also when using it.
Material deliveries, such as shuttering blocks or plumbing equipment, are easier when the design pool is located somewhere easily accessible. Save money by installing a negative or zero edge pool near your house.
A pool exposed to sunlight from 10am to 6pm will appeal to bathers. Water will gain a few degrees without being heated. In contrast, the wind cools water rapidly. There are many inconveniences caused by trees: shade, pollution, impurities, which lead to more expensive pool maintenance and disinfection costs.
If you have difficulty choosing the location for your infinity pool, go to this article for more information and to better choose the ideal land.
Adding removable fences to the infinity pool or the zero-edge pool
A drowning prevention system must be installed in all semi-inground or in-ground pools in France. There are four approved systems: protective barrier, audible alarm, safety pool cover, and enclosure. France requires these equipments to meet AFNOR standards.
The alarm is undoubtedly the least expensive system. In the presence of young children, however, the removable fence offers greater peace of mind. Despite its questioned aesthetics, it is appropriate for regular pools, deck level pools, or pools where water meets the horizon
Find out what warranties the builder offers
Pool builders are required to obtain a ten-year insurance policy, which insures the owner of the pool for ten years against defects that render the pool unusable. It will include defects in the masonry, pool surfacing (mosaic, for example) or pipe installation. Be careful, pool filtration equipment is only guaranteed for two years.
A decennial guarantee through capitalization is the only means of protecting the customer after the company ceases to create pools.
Keep in mind the construction of an overflow pool that lasts in the long term
It is essential that the pool of your dreams meets your budget and is resistant. However, it must also meet your aesthetic needs while being a peaceful place to relax.
Morana Water Design shares some recommendations with you.
In-ground reinforced concrete pools are the most durable.
Among the features that should be included in top-of-the-line pool equipment are a water level regulator and a filling solenoid valve. In case there is insufficient water in the catch basin, also known as the balance tank or surge tank, the filtration pump is protected.
Keeping your pool water clean and maintaining the pool is largely dependent on water circulation.
You can benefit from our experience of over 30 years in the construction of infinity and deck level pools by entrusting us with your construction plans. By following our advice, you will be able to avoid any worries when it's time to put your pool into service.